An innovative approach to food tourism "Boyne Valley Food Series"
was launched at The Boyne Valley Tourism Conference, Exhibition & 'Boyne Appetite' Dinner
5th March 2014:  With a theme to "Showcase a Unique Destination that is The Boyne Valley" over 250 delegates attended a two-day conference, Exhibition and Dinner hosted by Boyne Valley Tourism on Thursday 28th and Friday 29th February. Commencing with a tour of the Battle of the Boyne site and a Civic Reception in the Highlanes Gallery, Drogheda on Thursday 27th February, the Conference, Exhibition and "Boyne Appétit" Gala Dinner was held on Friday 28th February in the City North Hotel, Co. Meath.  The Conference and Exhibition focused on four different categories including: Food; Heritage & Culture; Leisure & Holidays; and Business. The Exhibition that ran alongside the Conference added an exciting element to the event with over 40 local tourism businesses and food producers showcasing what they have to offer.  The delegates included tour operators, travel writers, professional conference organisers, decision makers and representatives from the tourism trade within the region.
Mairead McGuinness MEP who serves on the Agriculture, Rural Development and Environment Committees in the European Parliament officially launched an innovative food adventure called 'The Boyne Valley Food Series 2014'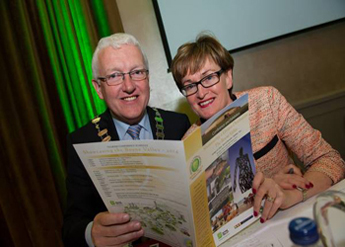 The concept was launched in Meath in2013 and it captured the imagination of foodies countrywide with a summer long calendar of wonderful events from Food Safaris to Foraging Days; Restaurant Trails to Gourmet Cycles.  It resulted in a total of 51 food related businesses working together in a cooperative marketing campaign to host 34 unique food events over the course of the summer months from June to September.   
As Meath and Louth grow as a tourism destination under the umbrella of the Boyne Valley brand this innovative programme now incorporates the entire area to become the 'Boyne Valley Food Series 2014'  bringing with it some wonderful new visitor attractions, producers and of course the coastline.
Boyne Valley Food Series Coordinator and Fáilte Ireland Food Ambassador, Olivia Duff, said  'Food Tourism now represents the largest growing Niche Travel sector in the world (WFTA 2013) and the region has real opportunity to carve out a significant tourism niche with the quality of producers, food service providers and attractions that we have in the region.  25 years ago the concept of food tourism did not exist.  Now Ireland is recognised as 'A New Culinary Nation'.  We have amazing ingredients, producers and people providing exceptional quality food.  Authenticity is the No. 1 important trait, the visitor wants to know the story of their food and experience it - Food Provenance is King - and that is what we offer in the Boyne Valley Food Series"
The Conference dinner, 'Boyne Appétit', held on the Friday night was a gastronomic experience showcasing food and drinks produced in the Boyne Valley.  Henry, The Marquess Conyngham, Olivia Duff, Fáilte Ireland Food Ambassador & Coordinator of the Boyne Valley Food Series and Dermot Seebery, food writer and former International 5 Star Chef spoke at dinner.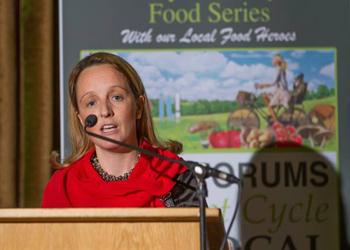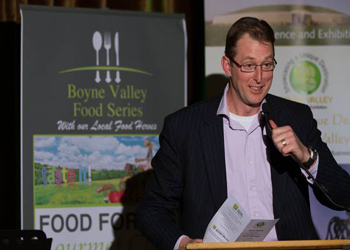 With all the produce freshly sourced in the Boyle Valley Region the "Boyne Appetite" Menu included
Pre-Dinner Drinks Reception
Stameen Farm Apple Juice, Dan Kelly's Cider
&
Slane Castle Whiskey
The above drinks are also available from the bar
AMUSE BOUCHE
Selection of freshly baked breads from
Sweet Pea Barn
with tastings
Derrycamma Honey-Mustard Oil,
Newgrange Gold Camelina Oil,
Oriel Sea Salt,
Blást Black Olive Tapenade Butter,
In Season Farm Tomato Relish
Smoked salmon, crab & cucumber salad,
Lemon Rapeseed Oil
Coastguard Seafood, In Season Farm salads,
Derrycamma Farm lemon rapeseed oil
Or
Honey roasted root vegetable soup,
Chive crème fraiche,
Sweet Pea Barn bread rolls,
Blást Wild Irish Garlic & Pesto Butter
Lannléire honey, Meade potatoes, In Season Farm,
Kilbeg Dairies crème fraiche
SORBET
Burke's apple sorbet
Burke's Farm Sorbet, Stameen farm apple juice
MAIN COURSE
Cider braised pork belly,
wholegrain mustard mash, thyme jus
The Whole Hoggs, Dan Kelly's Cider, Meade Potatoes,
Derrycamma Farm mustard
Or
Pan fried hake, crushed purple potatoes,
red pepper coulis
Coastguard Seafoods, In Season Farm, Meade Potatoes
Served with In Season Farm fresh vegetables and
baby roasters from Meade Potatoes
DESSERT
Buttermilk panna cotta, poached rhubarb, salted
caramel ice-cream, scrumchy muesli
Kilbeg Dairies, In Season Farm,
Burke's Farm Ice Cream, Oriel Sea Salt
CHEESES
Selection of local cheeses - Boyne Valley Blue,
Bellingham Blue, Glebe Brethan
Served with Sheridan's crackers and chutney,
In Season Farm golden beetroot relish,
Lannléire honey
TEA & COFFEE
PETIT FOURS
Chocolates by Ferdia Fine Foods
DIGESTIF
Coole Swan  -  Dairy Cream Liquer
For more information contact
Olivia Duff
Boyne Valley Food Series
087-6167546
Paula McCaul
A/Tourism Officer – Boyne Valley
046-9097068
pmccaul@discoverboynevalley.ie
Margaret McKeon-Boyle
Extensive PR Ltd
046-9245836; 087-2588918
Featured Image