Drogheda Museum Millmount in association with Drogheda on the Boyne Tourism will be conducting Walking Tours of Historic Drogheda starting today Wednesday April 8th and they will run Monday to Saturday at 2pm from Drogheda Tourist Office with an overview of the town's history in the Tholsel, from there we visit the Highlanes Gallery to view the sword and mace presented to the town by William of Orange and to hear about the Fenian guns once hidden in the roof of the building and also the Municipal Art collection.
We hear about the importance of Drogheda Grammar School in years gone by and of the part played by Benjamin Whitworth in the development of the town.
We view the 13th century St Laurence Gate, generally regarded as the finest example of a barbican defensive gate in Europe and we view the original town walls at Featherbed Lane, then on to St Peter's Church of Ireland Churchyard, to hear about cadaver stones depicting death, hear the tale of a lady who came back from the dead and learn of Drogheda's part in the famous Charge of the Light Brigade. Here we also learn more about the Battle of the Boyne. We view Magdalene Tower built in 1224 then it's on to St Peter's Church, West Street which houses the shrine of St Oliver Plunkett's Shrine, the tour then heads down Shop St to learn about the building of the Boyne Viaduct, The Castle of Comfort and Millmount. Visitors then have the choice of finishing the tour or continuing on up barrack Lane to visit Drogheda Museum Millmount and the Martello Tower.
The cost of the tour to visitors is €3 with a consession price of €2 for seniors and children.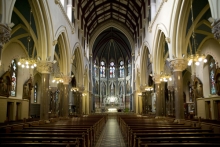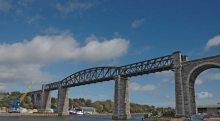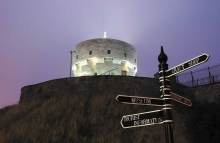 Featured Image