Now in its 13th year- after a necessary break in 2020, The Spirits of Meath Festival is back for 2021. To this day the Boyne Valley has remained the home of Halloween, the modern equivalent of Samhain. This year, the people of the Boyne Valley will gather again to celebrate one of Irelands oldest traditions- and we have over 20 amazing events to keep you entertained when you visit. The festival begins on the 3rd of October and runs right through until the 7th of November. Keep reading for details of our "Fun by Day" and "Fright by Night" events.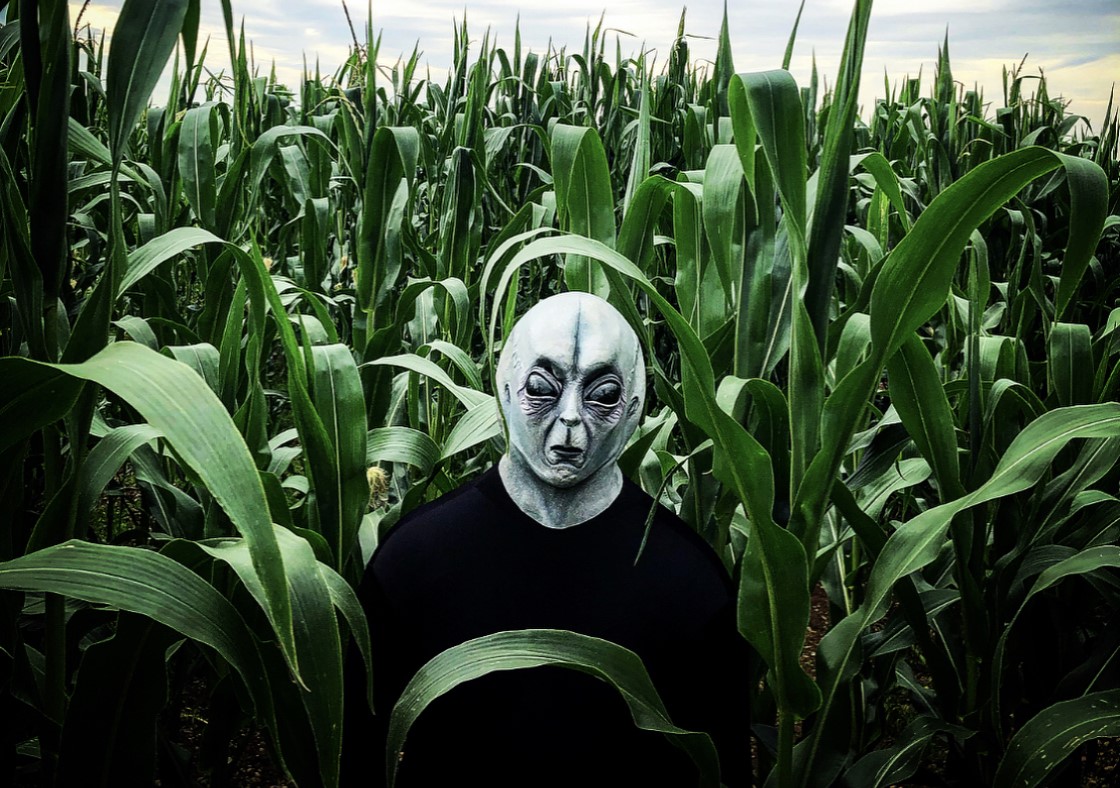 One event with countless disturbing experiences. This is a fright by night event and not for the faint hearted! Situated among the grounds of Causey Farm in Fordstown the attractions include WW11 Zombies, Carnevil, Purge night and Mommas Murder Maize! You don't want to miss this one. Book now on the farmaphobia.com website. The event runs from the 02nd of October to the 31st of October.

Killmount- Ghost tours of Millmount Museum
Is Millmount truly haunted by its infamous past? This setting in Drogheda is perfect for a ghost tour. The tour will take you to site of legends before descending into the museum itself. The events are for over 12's and take place on the 7th, 8th, 14th and 15th of October at 6pm. Extra dates may be added. Tickets are only €7 and are available from Eventbrite.

Circus Gerbola at Slane Castle
Running for a limited time from Friday October 8th to Sunday October 17th, Circus Gerbola and Tom Duffy's circus are coming together with the contemporary ISACS (Irish Street Arts, Circus and Spectacle Network) to bring you a Celtic voyage live from Slane Castle.  Tickets are available from the Circus Gerbola website and are priced at €17.50 each

Pumpkin and Fun at Navan Adventure Centre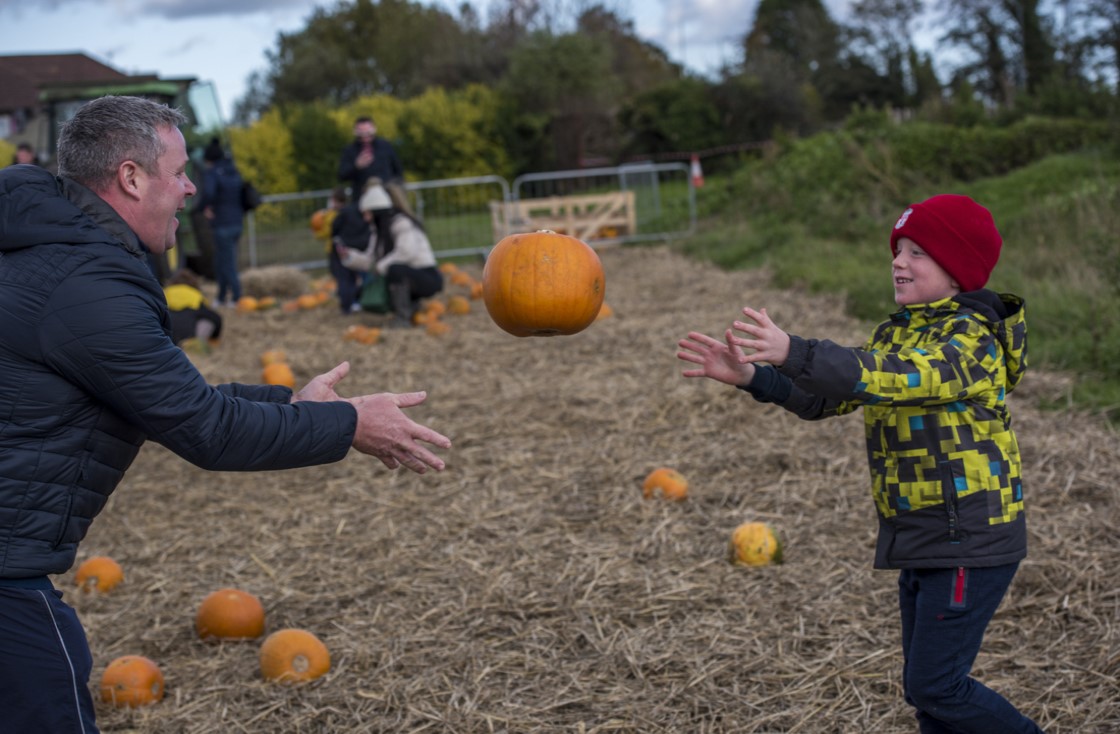 Always a great event to look forward to at Navan Adventure Centre. Their pumpkin and fun event includes a pumpkin from their pumpkin patch that you can carve yourself and take home, make your own witch's slimy snot, inflatable obstacle course and slide, inflatable maze and so much more. Tickets are selling fast so book yours now on their website.
This full day painting workshop is happening on the 16th of October in Swynnerton Lodge, Navan. "Painting Autumn" is €120 per person and tickets can be booked by emailing Noreen Walshe on her website. The perfect event for any painting enthusiast.

Púca Paddle- A Halloween Mythology experience
Join Boyne Boats this Halloween for a trip down the mythical Boyne River. Guided by Ross Kenny who is a legend in his own right as a skilled boat builder and storyteller, paddle through the hidden beauty of this ancient waterway. The Púca Paddles will run from the 23rd of October to the 31st of October, and you can book on Boyne Boats website. 
The Sound of Samhain- Healing Halloween retreat
Join sound therapist Liam Oragh and Kundalini Yoga teacher Marion Gilsenan for a deeply healing retreat in Swynnerton Lodge on the banks of the river Boyne this Bank holiday weekend. This full weekend retreat includes sound healing and yoga, forest bathing meditation, mantras and songs and do much more. Tickets are €325 per person and can be booked on redriveryoga@gmail.com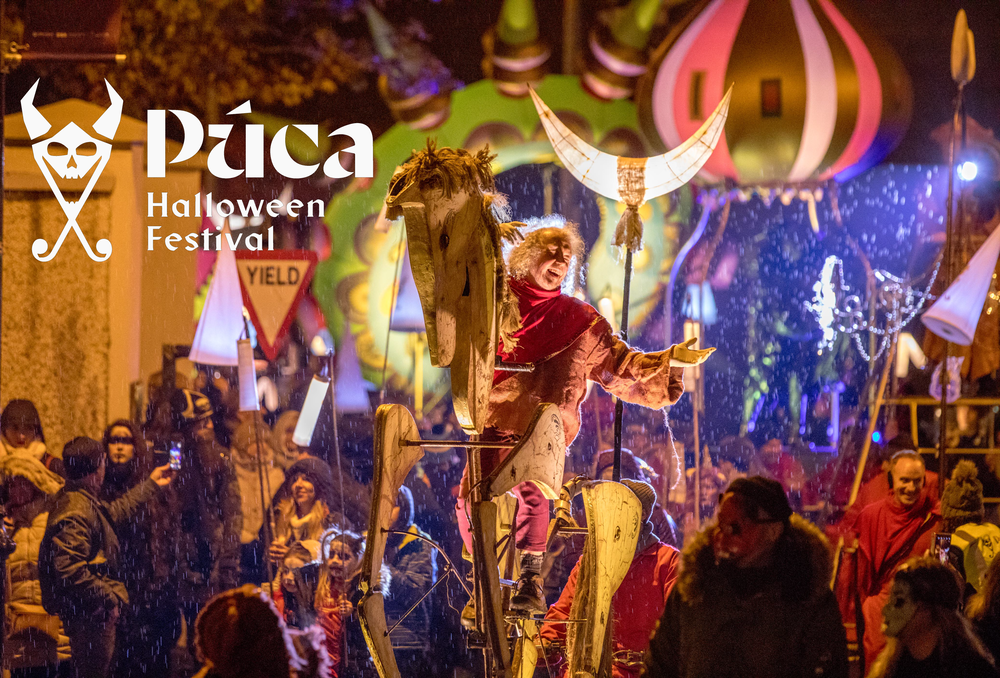 The spirit of Púca is back, bringing more mischief and merriment than ever before! From 23rd to 31st of October, visitors from near and far are being welcomed back for a week of music and mythology. The festival will take place across County Meath and County Louth and Slane Castle has been added to the festival hubs of Athboy, Trim and Drogheda. Tickets for all the events are now available on their website. 
Get ready for spooky storytelling, potions, spellcasting, and magical performances at Tayto Park this Halloween! Running from Saturday the 23rd of October to Sunday the 31st of October- tickets can be booked now on the Tayto Park website. 
Will you brave all the amazing attraction in Tayto Park after dark? Experience the Cú Chulainn Coaster, the Endeavour and much more with nothing but the night sky as your backdrop! This is shaping up to be an amazing event. Running from Saturday the 23rd of October to Sunday the 31st of October from 6-10pm from €15 per person. You can book now on their website.

Bee Tricked and Bee Treated at Beewise Nature Trail
Our favourite nature trail, Beewise, is hosting a Bee Tricked and Bee Treated Halloween event on the 24th, 26th, 28th, 30th and 31st of October for the Spirits of Meath Festival. Go dressed in your Halloween costume and have a fun walk around Bee Wise nature trail. You will visit different houses along the walk and meet some witches, ghosts, skeletons etc. They may even have some treats for you in their caldrons! Bookings must be made in advance on the Bee Wise website.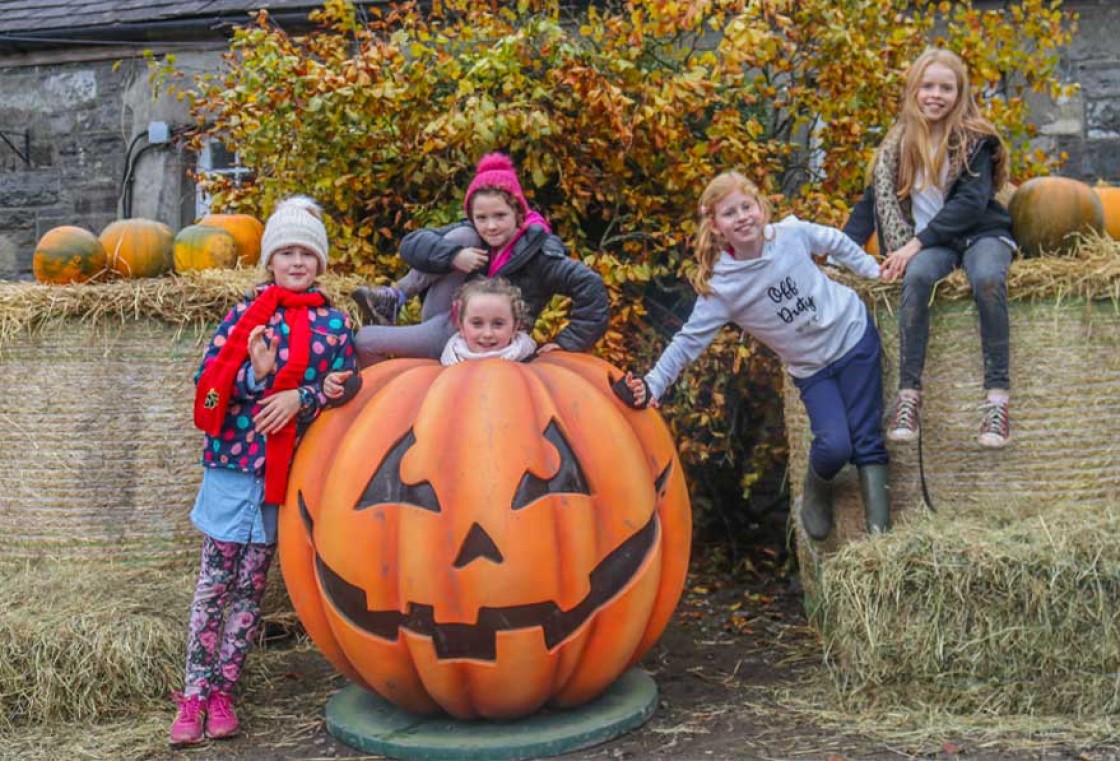 Enjoy traditional games and crafts, scarecrow corn maze, mirror maze, magician, hayride and limb throwing and lots more in Causey Farm's popular Halloween family event. Open from 12-4pm on the 24th, 25th, 27th, 28th, 29th and 30th of October. Tickets must be booked in advance on the Causey farm website. 
Join the good folk at The Central Bar and restaurant this Halloween for live music and DJ's, fancy dress, themed cocktails, drinks specials and spot prizes. This event is on the 24th of October from 7pm with no cost for entry.

Pumpkin Carving at Lough Crew Estate
Fancy yourself as an expert Pumpkin carver? Loughcrew Estate are holding a pumpkin carving competition from the 26th to the 30th of October this year.  You could be in with a chance of winning tickets to their enchanted garden lightshow later in the year. Contact Loughcrew on their website for more details.

Medi-Evil at Trim Visitor Centre
Come and explore a spine-tingling exhibition of medieval life at Trim Visitor Centre located in the shadow of the great ruins of Trim Castle. Running from Tuesday the 26th of October to Friday the 29th of October from 12-3pm. This is a free event in association with the Spirits of Meath Festival. 
A midterm cook camp for kids! Have fun while making some delicious treats like monster cupcakes, beasty meatballs, snaky chips and lots more! Hosted by Lismullin School of Culinary and Home Arts- this is the perfect camp for your little ones this midterm. Running on the 28th and 29th of October- tickets can be booked online at meathcookeryschool.com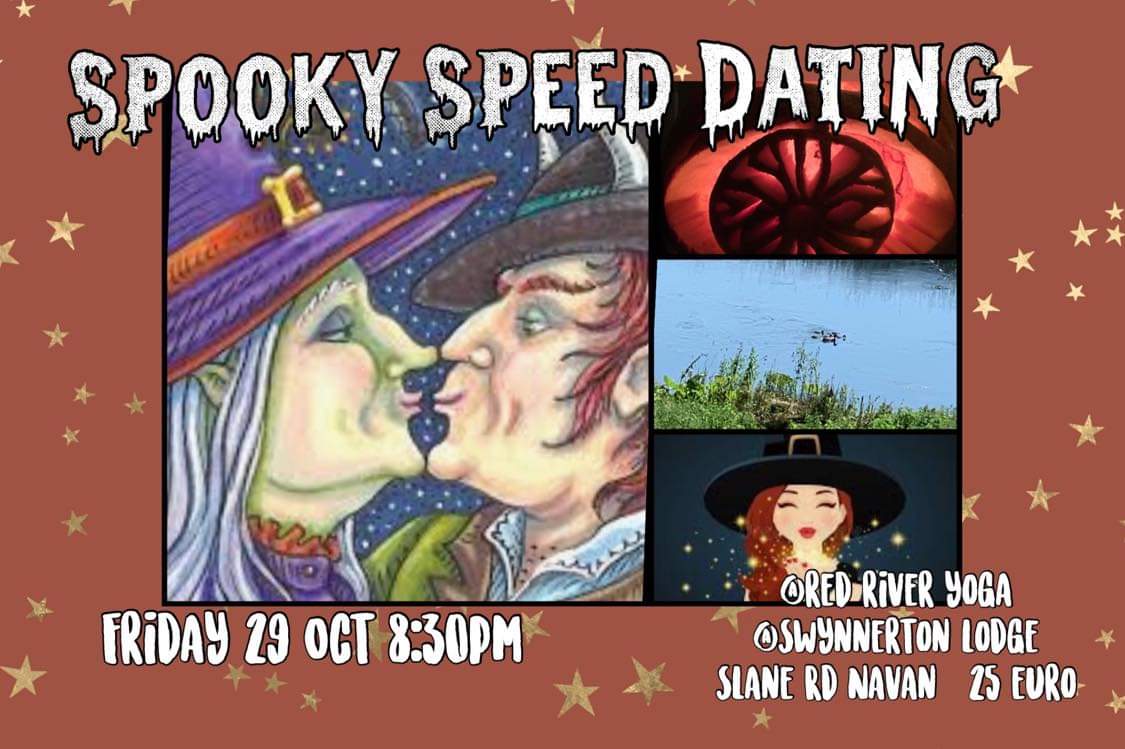 On the 29th of October at 8.30pm witches and warlocks can connect with the Spooky Speed dating event at Swynnerton Lodge in Navan. Pre booking is necessary on redriveryoga@gmail.com

Tlachtga Abhaile with Fiona Dalton
Join Fiona Dalton at the Lawrence Hotel on the 30th of October for dinner and a show. Fiona brings the local legend of Tlachtga alive through a performance of story and song that will both enthral and entertain you. Tickets can be booked by emailing info@thelawrence.ie
Samhain family feast at the Lawrence Hotel
Celebrate the feast of Samhain this Halloween with a Sunday lunch at the Lawrence Hotel. Enjoy a three-course meal including a spooky dessert. Kids can also enjoy a treasure hunt in the courtyard. Tables can be booked by contacting the Lawrence Hotel

Spooky Samhain family fun day at Red River Yoga
The spooky Samhain family fun day at Red River Yoga happens on the 31st of October with tours at 11am, 2pm and 4pm. Suitable for ages 3 and up, enjoy a tour full of storytelling, Irish mythology, building a fairy house and connecting with the fairies. Bookings can be made on their website.

Dracula (1931) with live score at the Solstice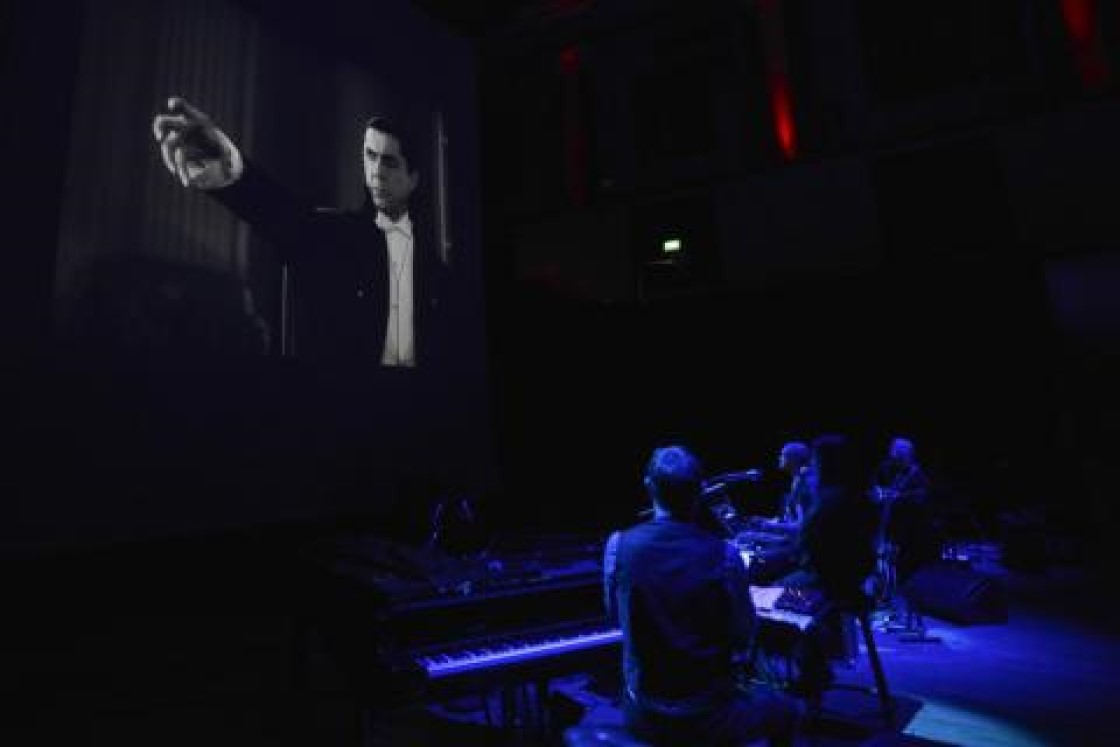 See the masterpiece that is Dracula come to life with live score from Seán McErlaine, Matthew Nolan, David Stalling, and Sharon Phelan live at the Solstice Arts Centre on the 31st of October at 8pm. This is sure to be a very special event. Tickets are now available on the Solstice Arts Centre website. 
After an amazing success in their first year in 2019 and a fantastic online event in 2020, The Hinterland Samhain Festival returns from the 5th to the 7th of November. More details to follow soon on what is sure to be an amazing event.
Halloween Spookfest at Rock Farm Slane
Taking place on 29th and 30th October don't miss out on tickets for these family-friendly shows which take place in the Barn at Rock Farm Slane. Booking is essential and tickets are €12.50 per person or €40 for a family of 4 (excluding booking fee). Fancy dress is not compulsory but strongly encouraged and there will even be a prize for the best dressed grown up! Check out Eventbrite for tickets. 
 
We will continue to add details on more events as they are announced around the Boyne Valley for the Spirits of Meath Festival. There is an event for everyone here whether you are travelling as part of a family, a couple, or a group of friends. Be sure to check out a full list of midterm special offers here from our accommodation providers. We can't wait to welcome you back to the Boyne Valley for the Spirits of Meath Festival 2021.

To keep up to date with all our news and special offers just sign up to our newsletter here.  
Featured Image