A three-day itinerary in the Boyne Valley this Halloween- for young families.
The weeks are flying by and before we know it, Halloween and the midterm break will be upon us. If you are looking for something to do this year with the kids, then why not plan a two- or three-night break to the Boyne Valley for the Spirits of Meath Festival. The festival is running from the 1st of October to the 6th of November and has something for the entire family. Our accommodation providers have lots of great family packages too! To help you with your planning, we have put together a 3-day itinerary to help you get the most out of your trip.

Day One: Arrive in the Boyne Valley
 
We are presuming that you will arrive in the Boyne Valley on Friday the 28th of October, but you can start your 2- or 3-night trip at any stage from the 28th of October to the 4th of November to enjoy these events. 
Start your day off with the Púca Treasure Hunt at Trim Castle. You will follow the clues through the town, collecting pieces of information while piecing together tales of folklore, Halloween and reported hauntings. Solve puzzles, complete challenges, and explore historic landmarks. 
Enjoy an early dinner in any of the restaurants in Trim including Brogans of Trim, The Castle Arch Hotel, Franzinis Restaurant, Trim Castle Hotel, Khan Spices, Knightsbrook Hotel or The Stockhouse Restaurant.
Book your tickets that evening for Sorcas na Samhna in Athboy and enjoy a unique, diverse and entertaining show that combines traditional circus with ultra-modern lighting, dancing, and special effects. The show starts at 7pm and is suitable for all ages. Be sure to book your tickets in advance.
Stay the night at any of our accommodation providers near Trim and Athboy. Trim Castle Hotel are offering a 2-night family Halloween package with a tepee and treats for the kids. Knightsbrook Hotel are offering a two-night Halloween package with a family pizza night and a trick or treat goodie bag for each child on arrival. Check out all our Halloween accommodation special offers here. 

Day Two: Enjoy a full day of Fun!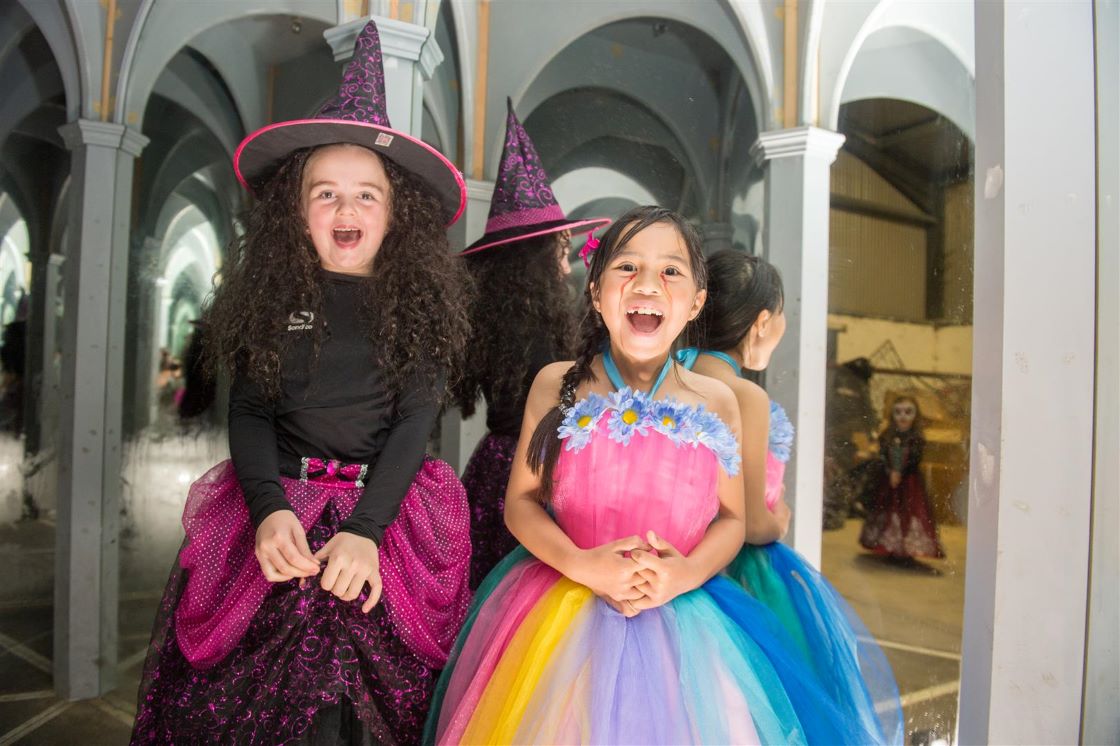 There are so many events happening for the Spirits of Meath Festival that you may have to spread these over two days. After a leisurely breakfast in your accommodation why not make your way to Causey Farm for Pooka Spooka. Suitable for families with children aged 2 to 12, enjoy traditional games and crafts, scarecrow corn maze, the mirror maze and so much more. Book tickets well in advance for this one.
Take in lunch in Eureka House or Park Rí in Kells before continuing on to Navan Adventure centre for their Pumpkin and Fun event. Make the best spooky memories for the little ones with magic shows, pumpkin carving, Halloween disco, activities and so much more. 
If there is still some energy left in the afternoon why not make your way over to Tayto Park for their Tricky Trail this Halloween.  This spooktacular treasure hunt will bring your family on a spooky adventure through Tayto Park to find hidden treasure along your trail. There's something for all the family; young and old; with fun interactive games, spooky storytelling, potions, spell casting and magical performances by a whole host of characters!
Alternatively, you can visit Beewise Nature trail for their Bee tricked and Bee treated event. A popular destination with families all year round. Have a fun walk around Bee Wise Nature Trail where you will visit different themed houses along the walk and meet some witches, ghosts, skeletons and more. Receive some treats from their cauldrons. Watch out for a few tricks along the way too! 
Grab a bite to eat in any of the lovely restaurants in the Boyne Valley that evening. If you finish your day in Navan then try the Bridge Restaurant in the Newgrange Hotel, The Ardboyne Hotel or The Central bar and restaurant. 
Stay at any one of our accommodation providers for the night. The Ardboyne Hotel and Newgrange Hotel in Navan are offering a 2-night Halloween package that includes dinner and tickets to Navan Adventure Centre Pumpkin and Fun event. Find out more here.

Day three: Celebrate the Spirits of Meath!  

 
After a hearty breakfast at your accommodation get ready for another full day of fun before heading home this evening.
Make you way to Ross at Boyne Boats for a Púca Paddle Halloween mythology experience. As you learn about mythology and the origins of Halloween that are part of this magical place, prepare to be charmed by the gentle sounds of nature within an enchanting landscape of native trees, wild plants and flowers, birds and wildlife that mirror onto the water. 
After a yummy lunch – we recommend Brambles Café in Oldbridge House, or the Conyngham Arms Hotel in Slane, why not make your way back to Trim for lots of events with the Púca festival including candlelit tales, treasure hunts and more! 
To plan the events you want to book for particular days just navigate to the Spirits of Meath website, enter your date range and choose- 'Fun by Day'. The accommodation special offers page will also give you a full selection of accommodation packages.
Nowhere else in Ireland will you find a region with so many events for Halloween. Its time to make some great mid term memories in the Boyne Valley- the home of Halloween! 
To keep up to date with all our news and special offers just sign up to our newsletter here. 
Featured Image