A safe and fun day out for you and your family at Causey Farm.
We are excited to announce that Causey Ice Cream Adventure will reopen on Saturday June 19th 2021.
This was a wonderful event last year, giving a much needed day out to families from far and near. This year we are extending the adventure … we have a few more challenges, a new Story Time Willow Walk, some potatoes to dig and extra characters to meet.
That is all along with the games, puzzles, trails, characters, giant bubbles and art installations you met last year, not to mention a scoop of delicious ice cream from the Ice Creamery. Causey Farm is a working farm which is home to cattle, sheep, ponies, pigs (and often piglets), hens, geese and a noisy gaggle of giggling geese.
We look forward to welcoming you to acres and acres of green countryside freedom.
Tickets will be available online from Monday June 7th.
Activities
Moo-Ral Art
Each family will get chalk and a classroom sized blackboard to draw their favourite ice cream, or produce any other artwork they want to impress us with.
Giant Domino Challenge
Patience and a steady hand are all that's needed to build an awesome domino chain reaction.
Story Time Willow Walk
Visit the sites from your children's favourite books on our themed Ice Cream Adventure Willow Walk
UnbelieveaBubble
This never fails to keep both big and little children entertained!
Fancy Footwork
Can you guide the ball through the ice cream maze?
Hailey O'Shillelagh's Flower House
Hailey is guaranteed to bring a strong dose of much needed laughter in the Flower House
Delicious Treats
Along the trail, everyone will get a complimentary scoop in the Ice Creamery Parlour in the old farmyard. After your experience you can choose to have a picnic or have some treats in the Cow's Lick Ice Cream Parlour near the Car Park. We now have extensive areas for outdoor picnicking.
New this year – Swan pedal boats on the pond – there is a small extra charge of €5 per boat to take a trip on our swans.
Images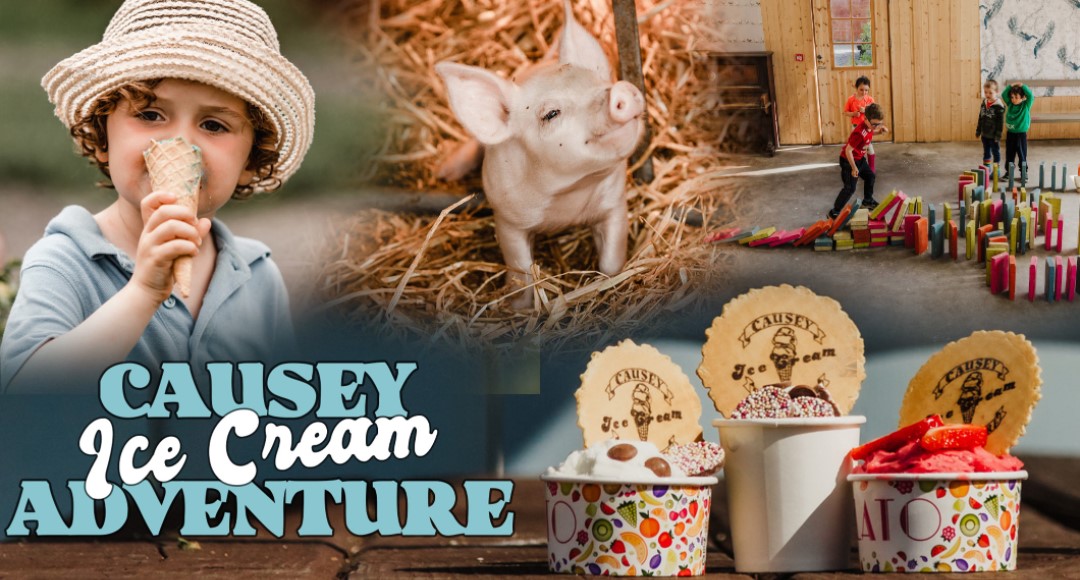 Telephone
+353 46 9434 135
Email Address
info@causey.ie
Address
Causey Farm
Girley, Fordstown,
Navan
Co. Meath,
C15 P83R
Facebook
https://www.facebook.com/CauseyFarm
Latitude
53.66552427836742
Longitude
-6.920212997435465
Date
Sat, Jun 19 - Sun, Aug 29 2021, All day