The sixteenth edition of Culture Night will take place on Friday 17 September 2021.
Culture Night / Oíche Chultúir is brought to you by the Arts Council; it is a national moment, celebrating all that makes up the richness and diversity of culture in Ireland today, connecting people to cultural activities locally and nationally and aims to open up pathways to ongoing engagement. See below for Boyne Valley events in Meath. For south Louth events click here.

Online
As part of Poetry Ireland's Poetry Town project this online event will include the reveal and presentation of the Poet Laureate's specially commissioned poem to the people of the town in a video production featuring additional contributions from local poets, artists and musicians.
Time: Any Timepm - Any Timepm
Genres: Film / Music / Poetry / Spoken Word / Storytelling / Talk
Website: http://www.poetryireland.ie/poetry-town/dunshaughlin
Online
A contemporary artistic response through film to the life and legacy of Colmcille as part of the Colmcille 1500 celebration.

Offline
A celebration of typography and lettering as an art form. Each year Mark Smith and his creative team take one word and translate it into a variety of languages reflecting the diversity of the community in Kells. This years theme is the word Identity …
Look up, look down, look all around … shop fronts, shop windows, streetscapes are filled with wonderful interpretive works and installations based on 'Identity' by local, national and international artists.
This is an outdoor self guided walking tour event.
Further information available from http://www.kellstypetrail.com/  and  https://www.facebook.com/KellsTypeTrail/
Time: Any Time
Genres: Design / Digital Art / Language / Photography / Street Art / Tour / Visual Art / Visuals
Features: Family friendly
Address: Kells, Co Meath
Website: http://www.kellstypetrail.com/
No Booking Required

Offline
The Colmcille 1500 Illuminations features projected artworks celebrating the story of Colmcille through artistic expression and includes the iconography produced by monks, scribes, stonecarvers and metal workers at Kells monastery.
The Colmcille Illuminations will be projected across the county at landmark sites on Culture Night to mark the 1500th anniversary of St. Colmcille's birth.
Time: 8pm - Any Timepm
Genres: Digital Art / Tour / Visuals
Features: Family friendly
Address: Kells and various locations across the county
Website: http://www.facebook.com/kellscolmcille1500/
No Booking Required

Online
Time: TBCpm - TBCpm
Genres: An tOireachtas / Talk
Features: Family friendly / Gaeilge
Website: http://www.meath.ie
Phone: 046-9021134
No Booking Required

Offline
Over the last 50 years the celebrated American Folklorist Henry Glassie has been writing in-depth studies of communities and their art. Inspired by the writings and ideas of Glassie – 'Field Work' is an immersive and meditative documentary set among the rituals and rhythms of working artists across Brazil, Turkey, North Carolina and Ireland. The process of making something out of raw materials is luminously manifested in sequences which reflect in their measured and attentive approach the actual real time process of making, of the work of hands and of the close attention the artist is bringing to the work. More details.
All attendees must present a Covid Certificate (or a doctor's letter proving you have recovered from Covid in the last 6 months) and ID before entering the auditorium for the film screening. Customers who do not present a Covid Cert/Doctor's Letter and ID will not be allowed to access the auditorium.
For groups of larger than 4 or wheelchair bookings, please contact Box Office on 046 909 2300.
Time: 8pm - 9pm
Genres: Film
Facilities: Café
Features: Wheelchair accessible
Address: Railway Street, Navan, Co. Meath C15 KWP1
Website: http://solsticeartscentre.ie/
Phone: 0469092300

Offline
Screening of Shakespeare's Sonnet 18 performed by Ronan Leahy will be played continuously throughout the evening in Solstice Studio. Ronan's current project, Shakespeare at Solstice, incorporates a number of his favourite sonnets which he will share over the course of the year. He is approaching them all like "little plays" in which the character is trying to communicate an idea to the viewer. More details.
All evening – no booking required.
Time: 6.30pm - 9pm
Genres: Film / Poetry / Screening
Facilities: Café
Address: Railway Street, Navan, Co. Meath C15 KWP1
Website: http://solsticeartscentre.ie/
Phone: 0469092300
No Booking Required

Offline
20 minute outdoor performance followed by a wine and cheese reception and informal meet and greet with Selma Daniel (Creator).
OutWall is an outdoor dance theatre performance that investigates the challenges of being inside the walls during lockdown and re-exploring our new freedom outside, through architecture and dance.
"We live surrounded by physical and invisible walls, so many walls that rose throughout human history, political walls, social walls, emotional walls.. We are protected and divided by these walls. These solid structures that still rise between us. China walls, Ireland's Medieval castle walls, the poetic 'The Wall' of Pink Floyd to the wall that I create for you, there is one wall that we all have been experiencing since March 2020, the pandemic wall… the walls of our homes, the wall of social distance and the walls of divided nations. Reflecting upon human survival and the skills needed to become a dominant species, I wonder how we can narrow these gaps." – Selma Daniel
Presented by Meath County Council Arts Office under the Local Live Performance Scheme in association with Solstice Arts Centre. More details.
Admission is free but pre-booking necessary.
Time: 7pm - 7.30pm
Genres: Dance / Performance / Theatre
Facilities: Café
Features: Family friendly / Wheelchair accessible
Address: Railway Street, Navan, Co. Meath C15 KWP1
Website: http://solsticeartscentre.ie/
Phone: 046 9092300
Images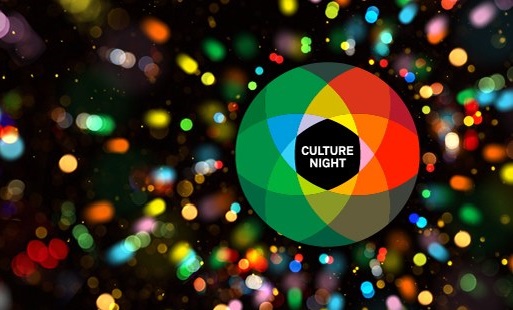 Facebook
https://www.facebook.com/culturenight/
Date
Fri, Sep 17 2021, All day