Drogheda Classical Music 2022/23 presents a mix of solo, trio, quartet recitals, larger ensembles plus a weekend dedicated to the voice all live in St Peter's Church of Ireland, Drogheda from September through to April 2023. Celebrating great music and artists, the season has something for every taste.

Opening on Fri 30 Sept, Chamber Choir Ireland perform Tchaikovsky's breath-taking Liturgy of St John Chrysostum. A setting of fifteen pieces from the Russian Orthodox Liturgy written for unaccompanied choir, this work is full of rich, intense and sonorous harmonies. Under the direction of Paul Hillier, this is a wonderful opportunity to hear Tchaikovsky's sublime large-scale work in its entirety.
On Fri 21 Oct, French pianist and winner of the inaugural Dublin International Piano Competition in 1988, Philippe Cassard, will mark his 60th birthday with a programme of popular and well-known works for solo piano by Mozart, Debussy and Schubert.
The Liverpool String Quartet will perform in Drogheda for the first time on Fri 4 Nov. Part of a National String Quartet Foundation tour, they will perform a 2007 work by Irish composer Deirdre Gribbin, a set of four Piazzolla tangos, arranged by the quartet and close with Zemlinsky's Quartet No. 1 - simply a masterwork of the genre.
On Sat 17 Dec, under the direction of Peter Whelan, the Irish Baroque Orchestra, Chamber Choir Ireland and soloists perform Handel's epic Messiah; one of his most popular works, which famously received its première in Dublin in 1742. The ideal lead in to Christmas.
The New Year welcomes the return of international mezzo-soprano, Tara Erraught as she curates a weekend of vocal training with lectures, workshops, masterclasses and concerts from Thurs 26 – Sun 29 Jan. Following the success of the inaugural vocal weekend in Jan 2020, Tara's guests will include repetiteur Dearbhla Colins; opera and recital singer Angela Brower; Ear, Nose and Throat specialist, Dr Paul Kwak from New York; Gaby Smith, financial and tax consultant specialising in literary, music, film and theatre; Yoga instructor and Speech and Language coach, Emma Wallace-Ahern; Senior Arts Manager and former casting director at Bayerische Staatsoper, Andreas Massow and RTÉ lyric FM presenter Liz Nolan. This weekend is a must for anyone interested in preparing for a long and healthy vocal career.
Pianist Leon McCawley returns to Drogheda on Fri 10 Feb. On this occasion, he will be joined by violinist Mia Cooper and cellist Brian O'Kane for piano trios by Clara Schumann and Dvorak, in this one-off concert. 
On Fri 24 Mar, pianist of note, Daniel Lebhardt makes his Irish solo debut in a recital of works by Brahms, Ethel Smyth, Beethoven and Mendelssohn. Lebhardt was the winner of the Young Concert Artists International auditions in Paris and New York in 2014. 
The Series will close on Fri 21 Apr with a performance by the Irish Chamber Orchestra under pianist and director, Kristian Bezuidenhout. Following their sold-out performance with Sheku Kanneh-Mason in 2019, we look forward to the orchestra's return with this programme of contrasting Mozart Piano Concertos to ensure a dazzling evening of music-making.
After two years of great uncertainty and disrupted seasons, including online and limited capacity performances, Drogheda Classical Music is pleased to welcome audiences back and plans to deliver a full season of great music by exciting and talented artists. All concerts take place in St Peter's Church of Ireland, Drogheda and unless otherwise stated, begin at 7:30pm. Individual Concert Tickets are €20 (€18 conc.) with a Season Ticket for €150 for all concerts including all events and concerts as part of Tara Erraught's weekend (applies to full price tickets only). Booking opens on Thurs 25 Aug from Droichead Arts Centre on 041 9833946 or www.droichead.com with further information available from www.droghedaclassicalmusic.com 

The Series is funded by the Arts Council and Louth County Council and run in partnership with Droichead Arts Centre with sponsorship from WhitelightEvents and RTÉ Supporting the Arts.
Full series details:
Fri 30 Sept        Chamber Choir Ireland
Tchaikovsky         Liturgy of St John Chrysostum
Fri 21 Oct        Philippe Cassard, piano
Mozart         Piano Sonata No. 11 in A major, K. 331 'Alla turca'
Debussy         Reflets dans l'eau, Ondine, Poissons d'oe, La Cathédrale engloutie,  
                                        Jardins sous la pluie, L'Isle Joyeuse
Schubert         Sonata in A major, D.959 
Fri 4 Nov        Liverpool String Quartet 
Piazzolla         The Four Seasons of Buenos Aires (Liverpool Quartet's arrangement)
Gribbin         Merrow Sang
Zemlinsky        String Quartet No. 1 in A major, Op. 4
Sat 17 Dec        Irish Baroque Orchestra & Chamber Choir Ireland
Handel         Messiah 

2023
Thurs 26 – Sun 29     A weekend of vocal classes, talks and concerts with Tara Erraught 
Jan, 2023         and special guests
Following the success of the inaugural weekend celebrating the voice in Jan 2020, Irish mezzo-soprano Tara Erraught returns to Drogheda to lead a weekend of vocal training with lectures, workshops, masterclasses and concerts. Through her opera and singing career, Tara has seen first-hand the importance of good vocal health and with her team of professionals has created this special weekend in Drogheda to highlight the importance of integrating it at the base level. This unique weekend is open to all, whether you're a professional singer, an avid choral member or have a curiosity about the voice. Further details 

Fri 10 Feb        Leon McCawley, piano, Mia Cooper violin & Brian O'Kane cello
Clara Schumann     Piano Trio in G minor, Op. 17
Dvorak         Piano Trio No. 3, in F minor, Op. 65

Fri 24 Mar        Daniel Lebhardt piano
Brahms         4 Ballades Op. 10
Ethel Smyth         Sonata No. 2 in F-sharp minor
Mendelssohn         Songs without Words 
Beethoven         Sonata No. 21 in C major, Op. 53 'Waldstein'

Fri 21 Apr        Irish Chamber Orchestra with Kristian Bezuidenhout piano
Mozart            Piano Concerto No. 18 in B-flat major, K. 456 
Mozart            Piano Concerto No. 25 in C major, K. 503
Images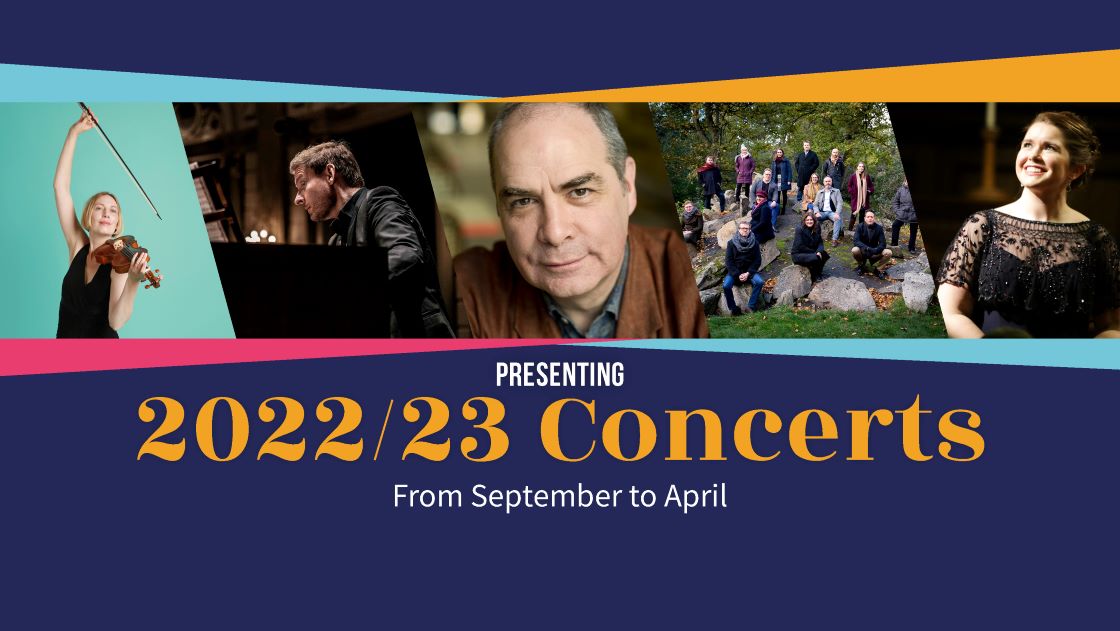 Email Address
droghedaclassicalmusic@gmail.com
Address
St. Peter's Church of Ireland, Peter St, Downtown Drogheda, Drogheda, Co. Louth, A92 AP95
Facebook
https://www.facebook.com/DroghedaCM/
Twitter
https://twitter.com/DroghedaCM
Latitude
53.7205209675824
Longitude
-6.350503242037106
Date
Fri, Sep 30 2022 - Fri, Apr 21 2023, All day