A vibrant multi-disciplinary centre in Drogheda, housed over two buildings, providing an extensive curated arts programme of theatre, music, film, visual arts, opera, dance, comedy, literature, family/children, outreach and festivals.
Scroll down for 2022 events...
DRAWDA – Drogheda Urban Trail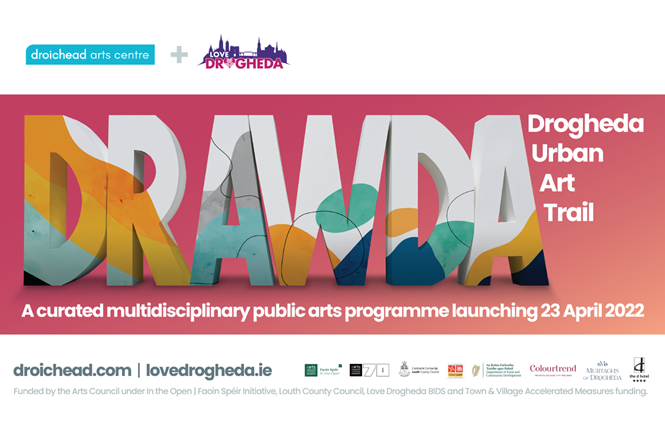 Date: 05/04/2022 - 31/12/2022 
Time: All Day Event
Cost: N/A
DRAWDA -  a curated multidisciplinary public arts programme that will take place in Drogheda, Co. Louth between November 2021, and April 2022, culminating in an Urban Art Trail throughout Drogheda that will focus on key figures and moments from our mythological past.
Six murals that focus on key figures and moments from mythology, with Audio Trail! Pick up your printed map from Droichead Arts Centre, Love Drogheda BIDS or local business'; or view it digitally online. Then, take a stroll throughout Drogheda following the trail, and use your smart device to scan the code and listen to the mythological stories behind the murals!
The trail includes: Fionn MacCumhaill and the Salmon of Knowledge on the Fitzwilliam Court building in Dyer St by Ciarán Dunlevy; Étaín, the heroine of Tochmarc Étaíne, one of the oldest and richest stories of our Mythological Cycle, on Meat Market Lane by Nina Valkhoff; Boann, Goddess of the Boyne by Lula Goce at Abbey Lane; Dagda, leader of the Tuatha Dé Danann by Russ on Lawrence St; Amergin, famous bard, poet and judge of the Milesians, by AERO at Drogheda Port, and The Morrígan, a Triple Goddess, with shapeshifting powers by This Is Friz on Patrick St!
Book Now

Mythical Midsummer Festival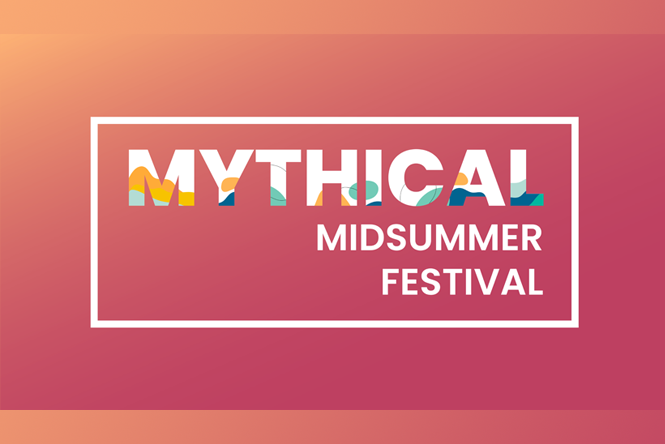 Date: 25/06/2022 
Time: 12:00
Cost: FREE
Come along, bring your friends and family, to our free mini family day as part of our Mythical Midsummer Festival, on Saturday 25 June at Old Abbey Lane from 12pm – 3pm, and in West St from 12pm – 4pm. With arts, magic and fun, + DRAWDA mural tours. Produced by Droichead Arts Centre and Love Drogheda BIDS.
Featuring at Abbey Lane: Draw on DRAWDA – our big giant letters arrive in the lane. Create your very own Mythological Canvas with facilitators Yvonne Dowd Gardiner and Darrin Finnegan. Savour some street food, and have your face painted in mythological designs and characters by the talented Kelly Kierans, of Gingernut Arts. Enjoy the buzz of live drums with a performance from the Samba Mammas, and be wowed by the talents of hula hooper and balloon modeler Eli! Plus Free DRAWDA Mural Tours with Grainne Rafferty and Mythologist Anthony Murphy featuring, The legend of Salmon of Knowledge, Étaín the heroine of Tochmarc Étaíne, Boann Goddess of the Boyne, The Morrígan a triple Goddess, Dagda the leader of the Tuatha Dé Danann and famous bard, poet and judge Amergin! 
Pride and Prejudice | Outdoor Theatre at Oldbridge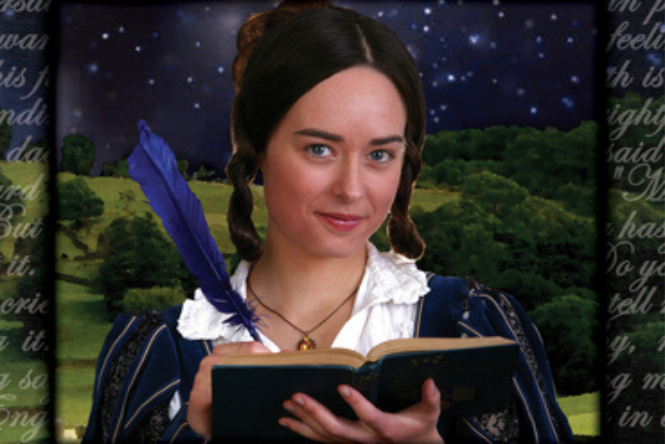 Date: 23/06/2022 
Time: 18:30
Cost:  €20 / €12 / €58 (family)
Come and experience all the joy of live theatre in the open-air!   
Take a step back in time with Chapterhouse Theatre Company to meet Elizabeth Bennet, Jane Austen's notorious heroine. When Elizabeth meets the terse and abrupt Mr. Darcy, she loathes him at first sight. But is there more to him than meets the eye? 
Cinderella | Outdoor Theatre at Oldbridge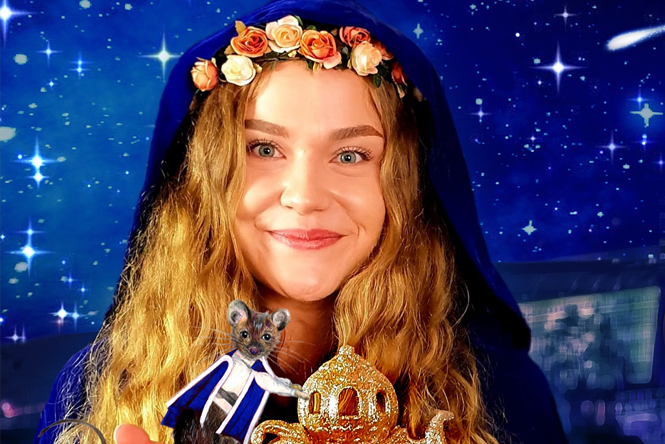 Date: 02/07/2022
Time: 18:30
Cost:  €20 / €12 / €58 (family)
Come and experience all the joy of live theatre in the open-air!
In an enchanted kingdom in a faraway land magical creatures and fairy godmothers come together to tell the best loved of all fairytales. Full of song, mirth, and joy for the summer ahead, join us on Cinderella's journey of a lifetime to a magical ball where nearly anything is possible especially if it is before midnight.
Book Now
 
Lori Goldston | Solo Cello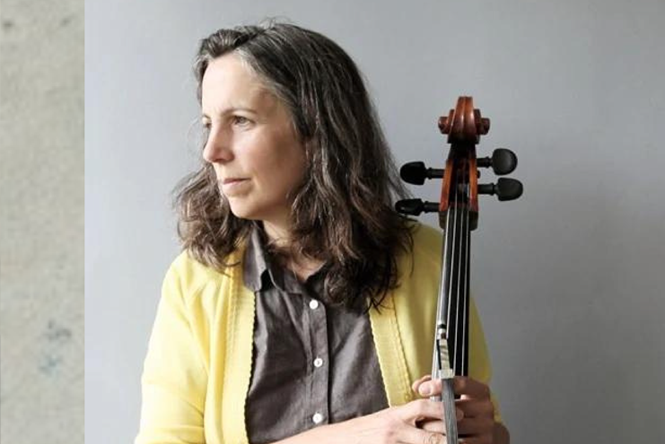 Date: 09/07/2022 
Time: 20:00
Cost: €15
'thirtythree-45' in association with Droichead Arts Centre and Hunters Moon, are delighted to present an evening of solo cello with composer, producer and writer Lori Goldston, this July.
Current and former collaborators and/or bosses of Lori include Earth, Nirvana, Mirah, Jessika Kenney, Ilan Volkov, Eyvind Kang, Stuart Dempster, David Byrne, Terry Riley, Jherek Bischoff, Malcom Goldstein, Steve Von Till, Lonnie Holley, Cat Power, Ellen Fullman, Maya Dunietz, Mik Quantius, Embryo, O Paon, Tara Jane O'Neil, Natacha Atlas, Broken Water, Ed Pias, Christian Rizzo and Sophie Laly, Threnody Ensemble, Cynthia Hopkins, 33 Fainting Spells, Vanessa Renwick, Mark Mitchell, Lynn Shelton, and many more.
Droichead Presents Drama: Theatre Club Autumn/Winter 2022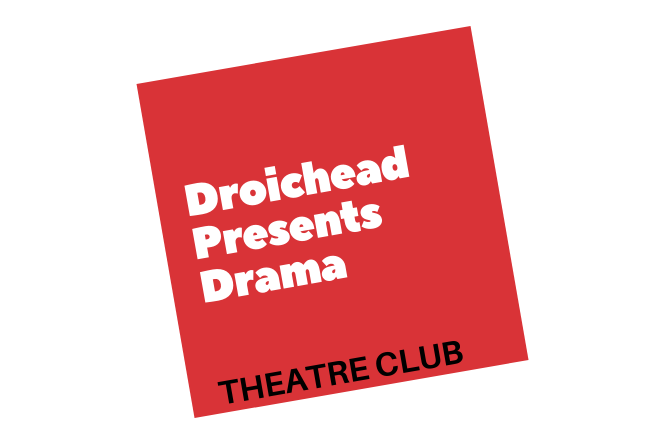 Date: 08/09/2022
Time: 20.00
Cost: 7 for €87
More Info
Droichead are thrilled to announce our THEATRE CLUB for Autumn 2022. This season we have a programme of seven unique, critically acclaimed shows. The season features premieres of two new plays, one by our company in association Red Bear Productions with their new play Once in a Lifetime, plus Unguarded by actor/writer Anthony Kinahan. The season will kick off with Rex Ryan's Poptart Lipstick; and also features the return of Teaċ Daṁsa, the company who brought us Swan Lake/Loch na hEala, in 2018, with their acclaimed new production of MÁM.
Set up in 2017, and heading into its 9th season, Droichead Theatre Club brings audiences together to see a play, and like a book club, our audiences can share their views, thoughts and impressions informally post show with the cast and creatives. If this is your first or your 50th play, it doesn't matter, come along, and be part of the drama at Droichead. 
Oh and have we mentioned its great value too, seven productions for €87. BOOK ONLINE or call 041 9833946 to be part of the Drama at Droichead.
Images

Email Address
info@droichead.com
Address
Droichead Arts Centre
Municipal Centre
26-28 Stockwell Lane
Drogheda
Co. Louth
A92 FXC6
Facebook
https://www.facebook.com/droichead.artscentre
Twitter
https://twitter.com/droichead_arts
Date
Sat, Jan 1 - Sat, Dec 31 2022, All day