A vibrant multi-disciplinary centre in Drogheda, housed over two buildings, providing an extensive curated arts programme of theatre, music, film, visual arts, opera, dance, comedy, literature, family/children, outreach and festivals.
Scroll down for 2022 events...
DRAWDA – Drogheda Urban Trail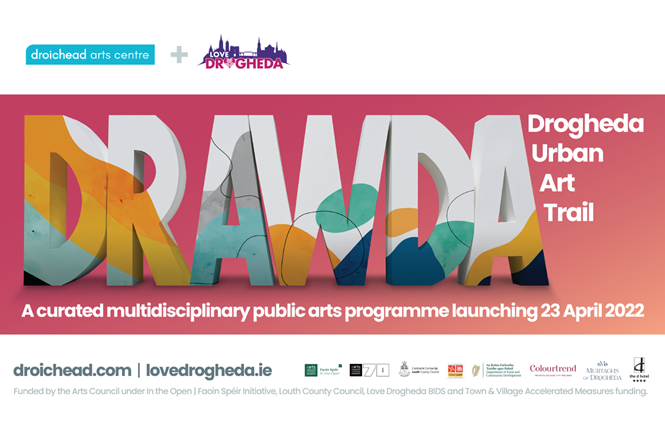 Date: 05/04/2022 - 31/12/2022 
Time: All Day Event
Cost: N/A
DRAWDA -  a curated multidisciplinary public arts programme that will take place in Drogheda, Co. Louth between November 2021, and April 2022, culminating in an Urban Art Trail throughout Drogheda that will focus on key figures and moments from our mythological past.
Six murals that focus on key figures and moments from mythology, with Audio Trail! Pick up your printed map from Droichead Arts Centre, Love Drogheda BIDS or local business'; or view it digitally online. Then, take a stroll throughout Drogheda following the trail, and use your smart device to scan the code and listen to the mythological stories behind the murals!
The trail includes: Fionn MacCumhaill and the Salmon of Knowledge on the Fitzwilliam Court building in Dyer St by Ciarán Dunlevy; Étaín, the heroine of Tochmarc Étaíne, one of the oldest and richest stories of our Mythological Cycle, on Meat Market Lane by Nina Valkhoff; Boann, Goddess of the Boyne by Lula Goce at Abbey Lane; Dagda, leader of the Tuatha Dé Danann by Russ on Lawrence St; Amergin, famous bard, poet and judge of the Milesians, by AERO at Drogheda Port, and The Morrígan, a Triple Goddess, with shapeshifting powers by This Is Friz on Patrick St!
Book Now
Red Bear Productions | In Your Own Time
Date: 01/09/2022, 30/11/2022
Time: 8pm
Cost: €5
Droichead Arts Centre are delighted to announce the first of three projects, presented by our associate artists Red Bear Productions. In your own time is a programme of monthly filmed theatre performances from some of Ireland's leading theatre companies such as THISISPOPBABY, Axis Ballymun and Fishamble. We would like to share these performances with you through a carefully curated programme of work over the next few months. Theatre is for everyone so please join us in your own time.
Red Bear Productions | THISISPOPBABY – In Your Own Time
Date: 01/09/2022, 30/11/2022
Time: Watch Anytime 
Cost: €5
Money
Written & Performed by Peter Daly
Directed by Phillip McMahon
"Money is the root of all evil" - The Bible
"Mo' Money, Mo' Problems" - The Notorious B.I.G.
On the fourteen year anniversary of the 'cheapest bailout in the world' acclaimed performer (and Chartered Accountant!) Peter Daly gets to grips with the changing concept of cash, his own miscalculations during the Celtic Tiger, and what actually happened on the path to, and beyond, that fateful day in 2008, in this one-man breakneck performance lecture. Jaw-dropping in it's discoveries, hilarious in its presentation and nail-bitingly infuriating in it's facts – Money unearths the gobsmacking truths about the flow of cash throughout the history of our state. It's the economy, stupid!
Slow Sessions 2022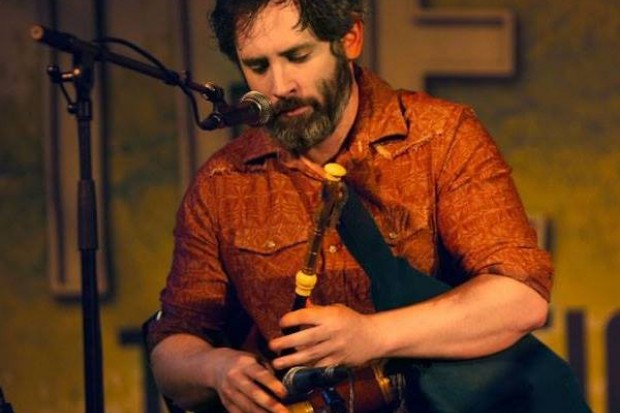 Date: 24/09/2022 – 17/12/2022
Time: 12.00
Cost: FREE
Droichead are delighted to announce the return of our Slow Sessions with Brendan McCreanor Live in our venue! Capacity is limited so early booking is advised. 
These sessions are for players of any instrument and at any level. A selection of easy and well known session tunes will be played slowly so that people in the early stages of their playing, or those coming back to playing music, have the opportunity to play together in a friendly, supportive and informal context. More experienced players who wish to refine their techniques and extend their repertoire at a slower pace are also very welcome.
Participants will learn a selection of popular session tunes including a couple of local ones from Co. Louth and well known tunes from across the country. Through engagement with the slow session, participants will develop their repertoire to include jigs, reels, slides, polkas and hornpipes, and will learn about the timing of the different styles and a little about the history and origins of the tunes.
Essentially, the objective of the slow sessions is to enable participants to learn new skills, develop ability and enjoy the immersive experience of the seisiún in a relaxed manner from the comfort and safety of their home.
Film Club Membership Autumn/Winter 2022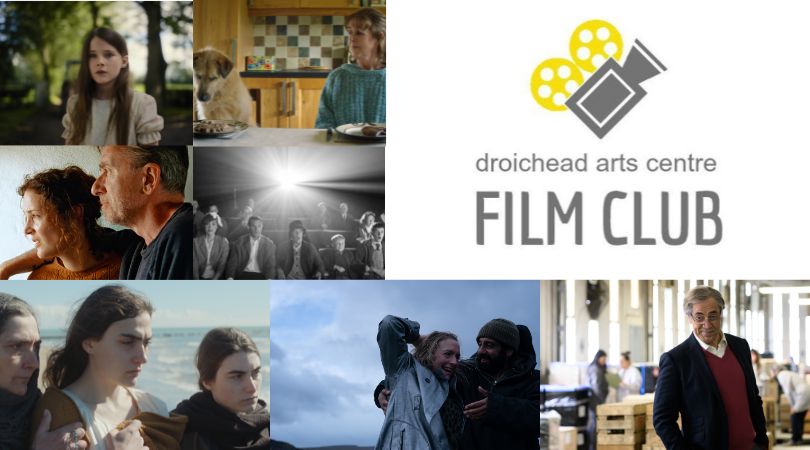 Date: 27/09/2022 - 20/12/2022
Time: 20.00
Cost: 7 Films for €35
Droichead Arts Centre in partnership with Access Cinema, are delighted to welcome back our Film Club members this autumn, with a season of engaging and beautiful films from Ireland and abroad. We look forward to welcoming back our existing audiences, our new audiences, and film lovers everywhere. 
And its great value too, see all seven films for only €35.
Tue 27 Sep – An Cailín Ciúin (The Quiet Girl) | Directed by Colm Bairéad | 8pm
Tue 11 Oct – Belfast | Directed by Kenneth Branagh | 8pm
Tue 18 Oct – Bergman Island | Directed by Mia Hansen-Løve | 8pm
Tue 01 Nov – Small Body | Directed by Laura Samani | 8pm
Tue 08 Nov – Róise and Frank | Directed by Rachel Moriarty and Peter Murphy | 8pm
Tue 13 Dec – Ali & Ava | Directed by Clio Barnard | 8pm
Tue 20 Dec – The Good Boss | Directed by Fernando León de Aranoa | 8pm
Drogheda Classical Music Season Ticket 2022/2023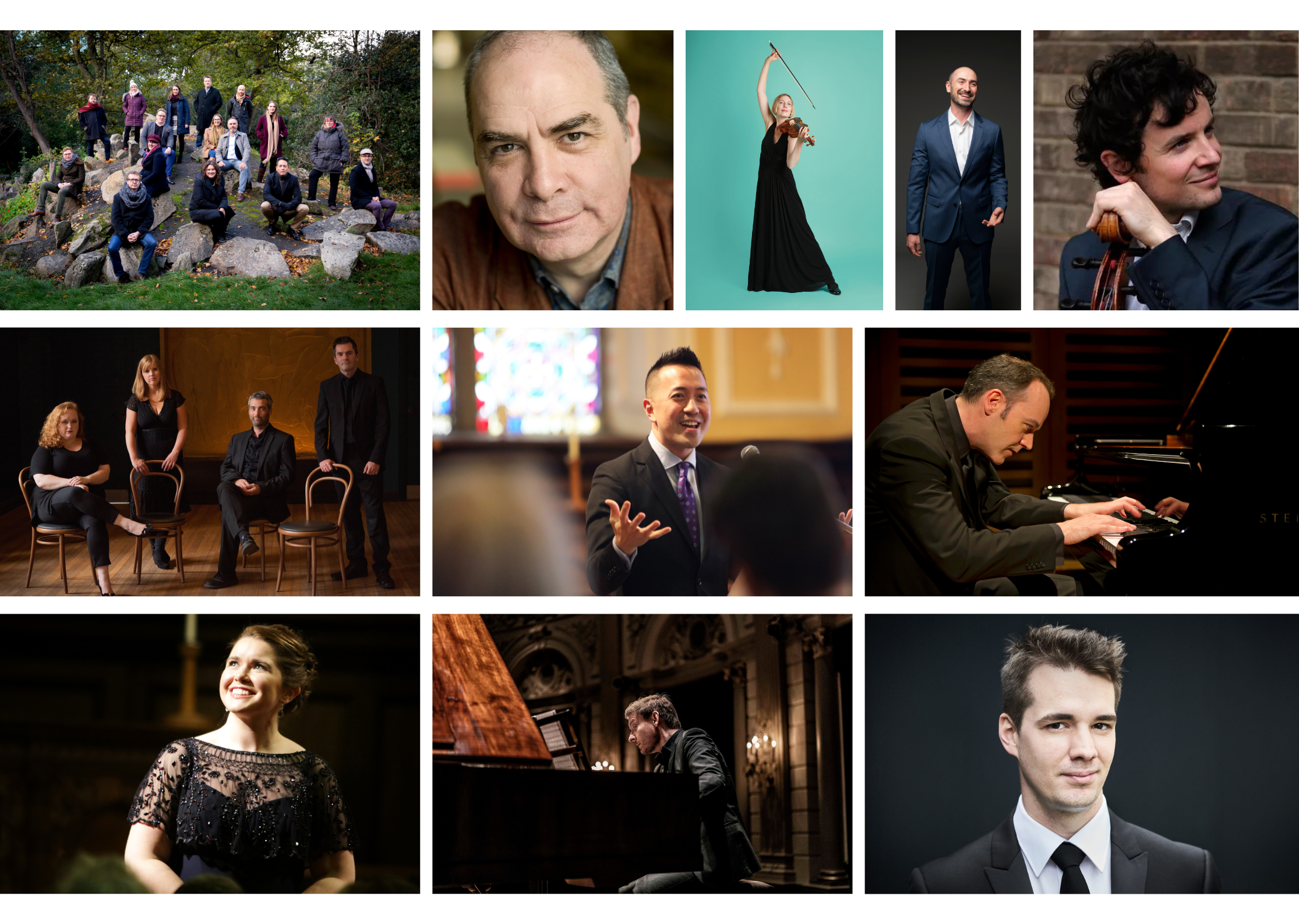 Date: 30/09/2022 - 21/04/2023
Time: 19.30
Cost: €150 for all events
Drogheda Classical Music 2022/2023 Season Ticket - including all events during the 'Celebrating the Voice' weekend for only €150! Individual tickets go on sale Thu 01 Sep.
Drogheda Classical Music returns with another wonderful season of concerts for 2022/2023, all set in the beautiful surrounds of St. Peter's Church of Ireland. Featuring some world class performers and compositions to astound and delight.
Fri 30 Sept 2022          
Chamber Choir Ireland perform Tchaikovsky's breath-taking Liturgy of St John Chrysostum.
An hour long performance for unaccompanied choir.
Fri 21 Oct 2022          
Philippe Cassard marks his 60th birthday with a programme of popular and well-known works for solo piano by Mozart, Debussy and Schubert.
Fri 04 Nov 2022         
Liverpool String Quartet performing masterworks from the repertoire including a set of four Piazzolla tangos, arranged by the quartet.
Sat 17 Dec 2022         
Handel's Messiah with the Irish Baroque Orchestra under the direction of Peter Whelan is the ideal lead into Christmas.
26-29 Jan 2023          
Internationally-renowned mezzo soprano Tara Erraught curates a weekend of vocal training with lectures, workshops, masterclasses and concerts with special guests.
Fri 10 Feb 2023         
 Pianist Leon McCawley, violinist Mia Cooper and cellist Brian O'Kane perform piano trios by Clara Schumann and Dvorak.
Fri 24 Mar 2023         
Winner of the Young Concert Artists International auditions in Paris and New York, pianist Daniel Lebhardt makes his Irish solo debut.
Fri 21 Apr 2023      
Irish Chamber Orchestra performs Mozart piano concertos with pianist and director, Kristian Bezuidenhout.
The 2022/2023 DCM Season Ticket is exceptional value at only €150 for all concerts in the series, as well as all events at the 'Celebrating the Voice' weekend. Each concert can also be booked individually for €20/€18.
Thank you for your continued support. 
17 Ways To A Better You | Adrian+Shane
Date: 26/11/2022 – 04/03/2023
Time: All Day Event
Cost: N/A
'17 Ways To A Better You' explores the impact of self-help books, clickbait quick fix articles, being bombarded with advertisements and unattainable images particularly on social media promising a better life if we obey their message.
The work will be largely compiled of imagery from adverts from the 1950's to the present day, in a freshly  fucked-up, pop art and contemporary style.
Adrian+Shane are two artists working together as one since 1998. Using paint, collage, stencils, photos and video to create what is, with out a doubt, pop art. Much of their work includes self-portraiture. Many piece's are loaded with fresh and well-targeted social commentary.
Drogheda Traditional Music and Singing Weekend: Singing Concert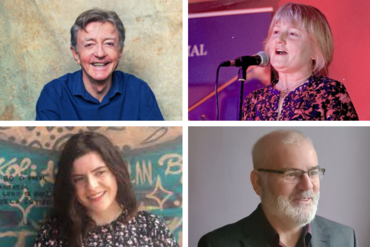 Date: 02/12/2022
Time: 20.00
Cost: €10
A singing concert in The Morning Star Tullyallen featuring Kevin Conneff, Michael and Bennary Quinn and Rita Gallagher followed by an open singing session.
Kevin Conneff is an Irish singer and musician, best known as singer and bodhrán player of Irish folk group; The Chieftains.
His singing was influenced by the traditional style from the Donegal/Fermanagh region, particularly the singing of Paddy Tunney. He currently part of The Dublin Trio, with Joe McKenna and Tony Byrne
Rita Gallagher now lives in Crossroads in east Donegal, and has been involved in traditional singing in English since her early 20's. She travelled with Comhaltas Ceoltoiri Eireann on tour groups to England and North America in the 1980's. 
DTMSW | Trad in the Tholsel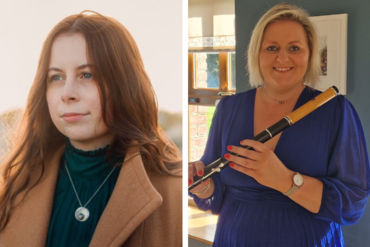 Date: 03/12/2022
Time: 14.00
Cost: €5
Music from Roisin Ward Morrow, Mairead McEvoy, Breifne Holohan and Pat Colgan in the historic setting of Drogheda's Tholsel.
Róisín Ward Morrow is an Irish fiddler and violinist based in Dundalk, Co. Louth and has just graduated with her Bachelor of Music (Hons) in Pedagogy from the DIT Conservatory of Music and Drama in both Irish traditional and classical violin.
Book Now
Drogheda Traditional Music and Singing Weekend: Pauline Scanlon, Paddy Glackin and Robbie Hannan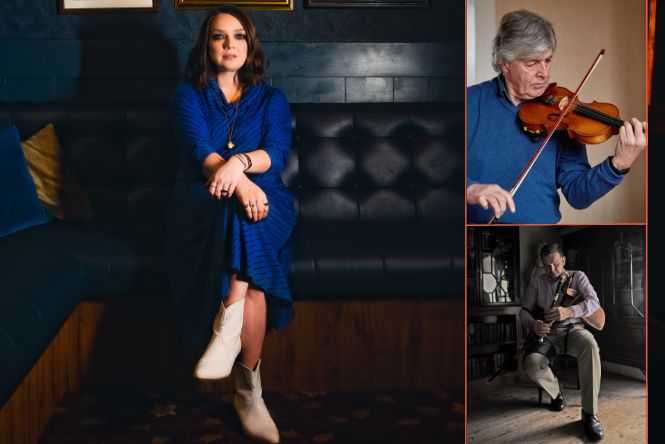 Date: 03/12/2022
Time: 20.00
Cost: €15 /€12Conc.
Join us at Drogheda Traditional Music and Singing Weekend for the annual concert in honour of Caitlín Bean Uí Chairbre, featuring Pauline Scanlon, Paddy Glackin and Robbie Hannan
Pauline Scanlon is a critically-acclaimed singer of contemporary and traditional Irish music. The Irish Times said "Her voice is a superb mix of china cup fragility and steely strength" and this pairing of opposites seems a true fit for this West Kerry native. Her voice comes from an ancient place but is always fresh. She is uniquely Irish yet universally understood, apparently traditional yet subversive at every turn. Perhaps now, it is the steely strength that comes to the fore in both her activism and her determination to constantly evolve as an artist. As a founding member of FairPlé, the role of women in the arts is central to her creative path and something she is very vocal about and dedicated to. Her new album, The Unquiet, released in March of this year, is a piece of art possessed of an old soul, but thoroughly modern and of its time. 
Pauline is also known for her partnership with Éilís Kennedy as Lumiere and for her work with Sharon Shannon, Atlantic Arc Orchestra, John Spillane, Sinéad O'Connor and Damien Dempsey, as well as Bird On The Wire, a collaborative project with The Whileaways.
Paddy Glackin and Robbie Hannon
Regarded as one of the great exponents of fiddle and pipes duet playing Paddy and Robbie have been playing together for over twenty years. Both share a deep interest in the old music of the pipes and fiddle with a particular interest in the music o Co Donegal. They have performed across Europe and America and released the critically acclaimed cd Sidean Sí in on the Gael Linn label in 1995.
Paddy and Robbie are in demand as soloists and  both have recorded extensively with a range of musicians over their careers. However, playing as a duet affords them the opportunity to explore a vast and rugged musical terrain that brings the listener into a remote musical experience.
DTMSW | Céilí with Rise the Dust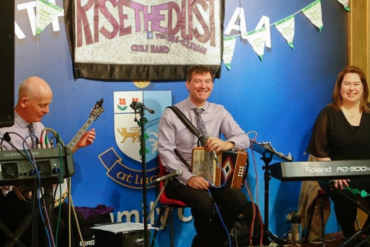 Date: 04/12/2022
Time: 15.00-18:00
Cost: €10
All roads lead to McHughes Pub on the Cord road at 3pm on Sunday 4th December for an afternoon of music and dance and a traditional céilí with music from the fantastic 'Rise the Dust'.
Book Now
 
Drogheda Traditional Music and Singing Weekend: Afternoon Singing Session with special guest Deirbhile Ní Bhrolcháin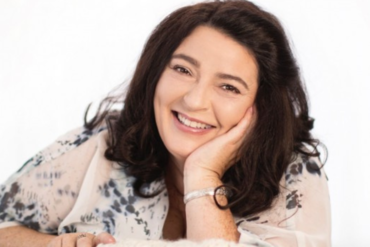 Date: 04/12/2022
Time: 15.00
Cost: €5 (Advance Booking Encouraged)
At 3pm Sunday 4th December in Highlanes Gallery there will be an afternoon singing session with special guest Deirbhile Ní Bhrolcháin also featuring local singers Gerry Cullen, Paddy and Kevin Brannigan, Ruth Campbell, Carolanne and Declan Barber, Irene Bagnel, Des Howard, Sean Faulkner, Catherine Shorthall, Dave O'Connor, Noel Bailey, Pat and Stuart Carolan, Joe Gallagher and Seamas Sheils.
Deirbhile Ní Bhrolcháin is a traditional singer from Salthill in Galway. She has won prizes in singing in Irish and in English in competitions such as Feis Cheoil an Iarthair, Slógadh and Feis Maitiú. Irish was Deirbhile's first language as her family spoke Irish in the home.
She grew up in a musical family and learned many songs from her mother. It is hardly surprising that she became interested in singing, seeing as her parents met through a famous singing session/class in Dublin called An Claisceadal led by Seán Óg Ó Tuama. There are different regional influences in her singing as her mother sang many songs from West Cork, being from Macroom with relatives in Ballyvourney but then living in Galway, she was also influenced greatly by singers from Connemara including Joe Heaney and Seán 'ac Dhonncha. 
Book Now
 
Film Club | Ali & Ava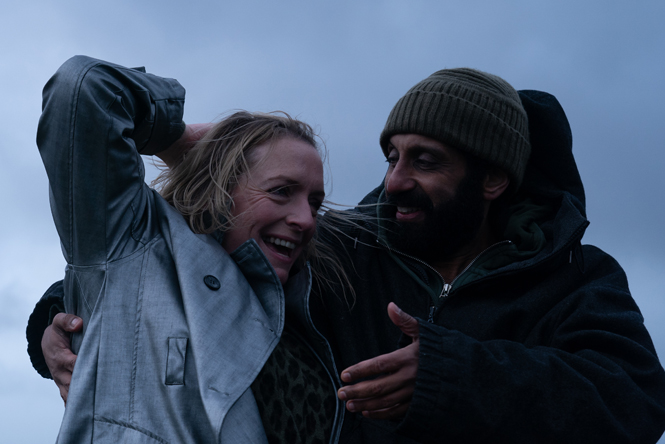 Date: 13/12/2022 
Time: 20.00
Cost: €8
DIR: CLIO BARNARD | UK 2021 | 94 MIN | CERT 15A
Ali, a British Pakistani working-class landlord and music enthusiast, is trying to keep his marriage separation secret from his extended family. When he meets Irish-born teacher and single mother Ava, an unexpected romance develops. The latest film from UK writer-director Clio Barnard (The Selfish Giant) is a warm, charming exploration of a midlife love affair that develops in Bradford.
"★ ★ ★ ★ … an understated triumph … Barnard's film is an essay in acceptance and love." - Peter Bradshaw, The Guardian, Cannes Film Festival 2021
Part of Film Club Autumn/Winter 2022, Droichead Arts Centre in partnership with Access Cinema, a season of engaging and beautiful films from Ireland and abroad. We look forward to welcoming back our existing audiences, our new audiences, and film lovers everywhere. 
The Grinch | Cinemagic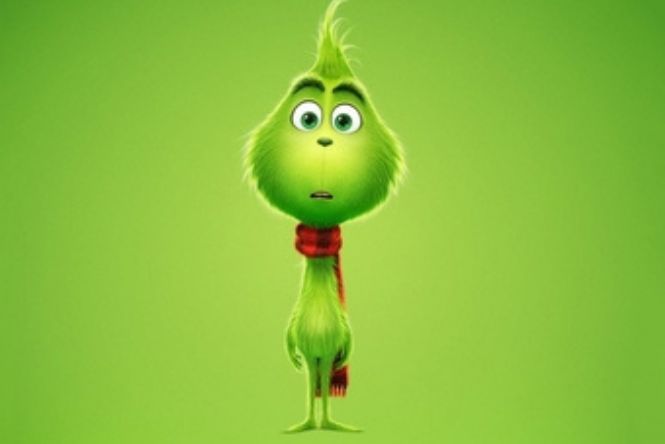 Date: 20/12/2022
Time: 10.00
Cost: €6
Droichead are delighted to announce another partnership with Cinemagic to present a festive movie for local schools as part of the 2022 Cinemagic Cross Border Film Education Programme. Join us on Tuesday 20th December for animated comedy The Grinch (G Certificate)
The Grinch tells the story of a cynical grump who goes on a mission to steal Christmas, only to have his heart changed by a young girl's generous holiday spirit. Funny, heart-warming and visually stunning, it's a universal story about the spirit of Christmas and the indomitable power of optimism.
Silver Screen | The Bishop's Wife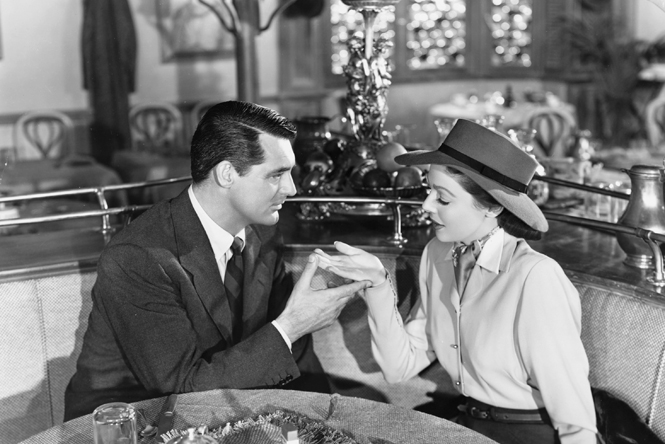 Date: 20/12/2022 
Time: 14.00
Cost: €5 | FREE for over 55's
DIR: HENRY KOSTER | USA | 1947 | 109 MINS | LANGUAGE: ENGLISH
Bishop Henry Brougham, preoccupied with work, has neglected his wife. Only divine intervention can save the marriage, but the angel sent from above has a mind of his own in this witty romantic comedy. As Christmas approaches young clergyman Bishop Henry Brougham (David Niven) should be looking forward to celebrating the holidays with his family, but instead is struggling to raise the funds necessary for completion of a new cathedral. Can the appearance of handsome angel Dudley (Cary Grant) answer Henry's prayers and also help him recapture romance with his neglected wife (Loretta Young). Or does this divine visitor have some plans of his own!
Presented in association with Access Cinema, our Silver Screen programme is free for over 55's! 
Film Club | the Good Boss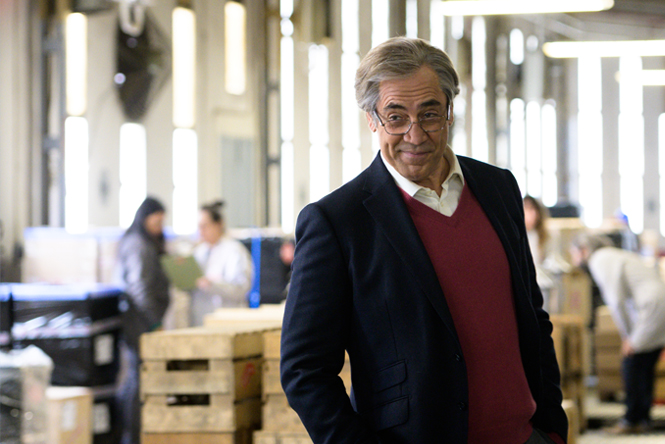 Date: 20/12/2022 
Time: 20.00
Cost: €8
DIR: FERNANDO LEÓN DE ARANOA | SPAIN 2021 | 120 MIN | CERT 15A | LANGUAGE: SPANISH
Básculas Blanco, a Spanish company in a provincial Spanish town, awaits a committee visit to decide whether they merit a local Business Excellence award. Everything has to be perfect when the time comes. Under increasing pressure, the company's proprietor, Blanco pulls out all the stops to address and resolve issues with his employees, crossing every imaginable line in the process.
''With a style reminiscent of the Coen brothers' trademark cinematic sarcasm, León de Aranoa artfully spins a story (which he also wrote) of bad behaviour trying to pass itself off as good.'' - Jordan Mintzer, The Hollywood Reporter
Part of Film Club Autumn/Winter 2022, Droichead Arts Centre in partnership with Access Cinema, a season of engaging and beautiful films from Ireland and abroad. We look forward to welcoming back our existing audiences, our new audiences, and film lovers everywhere. 
Images

Email Address
info@droichead.com
Address
Droichead Arts Centre
Municipal Centre
26-28 Stockwell Lane
Drogheda
Co. Louth
A92 FXC6
Facebook
https://www.facebook.com/droichead.artscentre
Twitter
https://twitter.com/droichead_arts
Date
Sat, Jan 1 2022 - Sun, Apr 23 2023, All day