A vibrant multi-disciplinary centre in Drogheda, housed over two buildings, providing an extensive curated arts programme of theatre, music, film, visual arts, opera, dance, comedy, literature, family/children, outreach and festivals.
Scroll down for 2022 events...
DRAWDA – Drogheda Urban Trail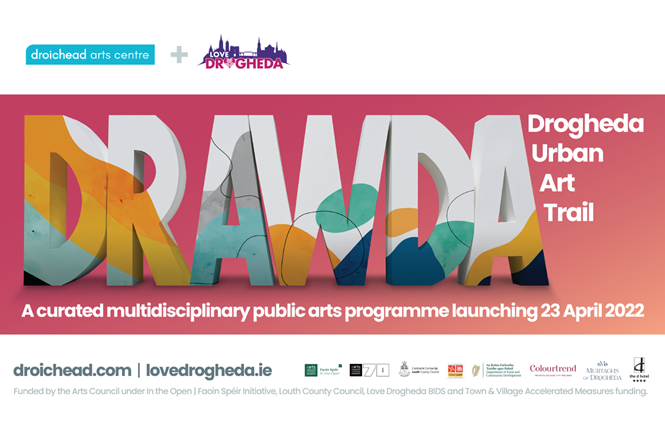 Date: 05/04/2022 - 31/12/2022 
Time: All Day Event
Cost: N/A
DRAWDA -  a curated multidisciplinary public arts programme that will take place in Drogheda, Co. Louth between November 2021, and April 2022, culminating in an Urban Art Trail throughout Drogheda that will focus on key figures and moments from our mythological past.
Six murals that focus on key figures and moments from mythology, with Audio Trail! Pick up your printed map from Droichead Arts Centre, Love Drogheda BIDS or local business'; or view it digitally online. Then, take a stroll throughout Drogheda following the trail, and use your smart device to scan the code and listen to the mythological stories behind the murals!
The trail includes: Fionn MacCumhaill and the Salmon of Knowledge on the Fitzwilliam Court building in Dyer St by Ciarán Dunlevy; Étaín, the heroine of Tochmarc Étaíne, one of the oldest and richest stories of our Mythological Cycle, on Meat Market Lane by Nina Valkhoff; Boann, Goddess of the Boyne by Lula Goce at Abbey Lane; Dagda, leader of the Tuatha Dé Danann by Russ on Lawrence St; Amergin, famous bard, poet and judge of the Milesians, by AERO at Drogheda Port, and The Morrígan, a Triple Goddess, with shapeshifting powers by This Is Friz on Patrick St!
Book Now
Touching Time | John Sunderland

Date: 06/08/2022 – 03/09/2022 
Time: All Day Event
Cost: FREE
Droichead Arts Centre are delighted to present Touching time, an exhibition by John Sunderland, featuring work inspired by the archaeological project, The Beaubec Project.
This exhibition shows the result of the investigation of the two crafts of archaeology and art, drawing using archaeological soils and skills involved in excavation. John used a hybridised process to investigate the importance of touch in the excavation, something he considers to be one of the closest ways of experiencing and subsequently imagining the past directly, as it exists in the present.
Boyne Valley International Film Festival
Date: 12/08/2022 – 13/08/2022 
Time: N/A
Cost: €15 for season ticket
Set against the beautiful backdrop of the Boyne Valley, Droichead Arts Centre and film maker Frank W. Kelly are delighted to announce the inaugural Boyne Valley International Film Festival, in partnership with LOVE Drogheda BIDS. 
Curated by acclaimed filmmaker and Boyne Valley native Frank W. Kelly and Collette Farrell, Droichead Arts Centre Director, this two day event will feature the best short films from around the country, and the world, with a special focus on films made in the region. 
Droichead Presents Drama: Theatre Club Autumn/Winter 2022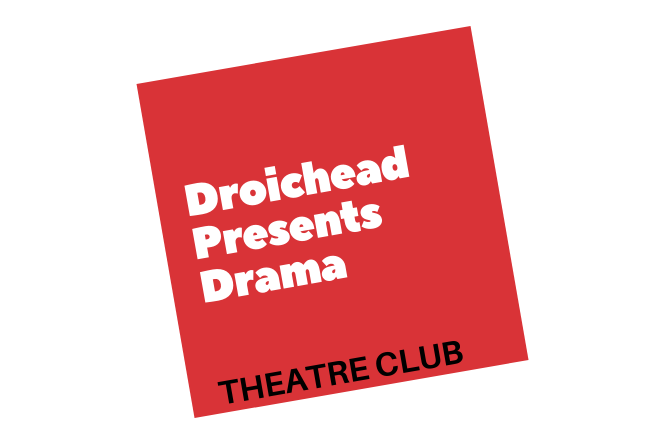 Date: 08/09/2022
Time: 20.00
Cost: 7 for €87
More Info
Droichead are thrilled to announce our THEATRE CLUB for Autumn 2022. This season we have a programme of seven unique, critically acclaimed shows. The season features premieres of two new plays, one by our company in association Red Bear Productions with their new play Once in a Lifetime, plus Unguarded by actor/writer Anthony Kinahan. The season will kick off with Rex Ryan's Poptart Lipstick; and also features the return of Teaċ Daṁsa, the company who brought us Swan Lake/Loch na hEala, in 2018, with their acclaimed new production of MÁM.
Set up in 2017, and heading into its 9th season, Droichead Theatre Club brings audiences together to see a play, and like a book club, our audiences can share their views, thoughts and impressions informally post show with the cast and creatives. If this is your first or your 50th play, it doesn't matter, come along, and be part of the drama at Droichead. 
Oh and have we mentioned its great value too, seven productions for €87. BOOK ONLINE or call 041 9833946 to be part of the Drama at Droichead.
Images

Email Address
info@droichead.com
Address
Droichead Arts Centre
Municipal Centre
26-28 Stockwell Lane
Drogheda
Co. Louth
A92 FXC6
Facebook
https://www.facebook.com/droichead.artscentre
Twitter
https://twitter.com/droichead_arts
Date
Sat, Jan 1 - Sat, Dec 31 2022, All day