This year's Solo@Home in association with LMFM, has a new format and a stunningly diverse range of artists performing from the intimacy of their own homes.
The series lineup includes: Pugwash and Duckworth Lewis Method founder and pop songwriting legend Thomas Walsh, Nigerian-Irish performance poet Dagogo Hart, Choice Award nominated songwriter Niamh Regan, Scullion and Tír Na nÓg legend Sonny Condell, Turn singer and songwriter Oliver Cole, Beloved and internationally renowned folk singer Niamh Parsons, Traditional fiddle player, composer and singer Róisín Ward Morrowand Drogheda's own Urban Folk songwriter Seán Mathews. Episode#2 features Sonny Condell, Seán Matthews, Niamh Parsons, Thomas Walsh and Róisín Ward Morrow.
Once again curated by SJ McArdle and edited by Adrian Taaffe, these eight episodes will feature longer bespoke performances from each artist and will premiere on Droichead Arts Centre's YouTube channel every Sunday for 8 weeks at 11am.
SJ McArdle is an Irish songwriter and musician, Artist in Association at Droichead Arts Centre and is known for his work in contemporary Irish folk band Kern from 2013 to 2020. More recently, as a solo artist, SJ has been working on a project called Port, a song-cycle based around research into the stories of Drogheda's historic Port and an album is on the way. His songs and performances have been featured in radio, film and television and he has toured extensively, nationally and internationally over the past twenty years.
Sonny Condell, an integral part of the Irish music scene since the early `70s, a musical career spanning 45 years, from the heady days with "Tír Na nÓg" which landed him on the biggest stages in the world, to the truly fantastic "Scullion" and numerous solo albums. Perhaps one of Irelands greatest songwriters, Sonny Condell is the real McCoy. "Four decades equals a remarkable repertoire in Scullion's world, most of it drawn from the creative genius of Condell, whose subtle lyricism and matchless melody lines bear scant kinship to anyone else on the planet" Siobhán Long -- Irish Times June 2008 Sonny and the other members of Scullion are currently at work finishing recording on next album, which will be released later this year.
 
Seán Mathews is a blend of the Folk Traditionalist, the Eclectic and the Demonstrator. He can polarise and galvanise. All while holding the fort in his hometown of Drogheda. Seán welcomed two baby girls into the world during the first Lockdown of 2020. It was during this time he wrote the final tracks on his upcoming second album, Welcome to Ballsgrove. Welcome to Ballsgrove will charge down the neighbourhood, take you away from there for a while and then slip you back there feeling good about the journey. The similarities of Drogheda to other Irish towns like Newry, Dundalk and Killarney are in that the Urban regularly meets the Rural. The concrete greets the cows. Or as Patrick Kavanagh would say, where the parochial meets the regional. This is the essence of Seán's upcoming second album, Welcome to Ballsgrove.
Niamh Parsons has come to be known as one of the most distinctive voices in Irish music. Her voice has drawn comparisons to such venerated singers as Dolores Keane, June Tabor and Sandy Denny. Described in the Boston Herald as both emotionally haunting and tonally as clear as crystal, Niamh's albums have been 'must-have' collector's items for any lover of songs and singing. With 8 CDs to her name, Niamh has gathered a body of songs from many sources, both traditional and modern songwriters. Since 1999 Niamh has been playing in a duet with Ennis based Graham Dunne. There is a spiritual bond between Niamh and Graham when they perform, which draws out the essence of the songs. Throughout her career, Niamh has performed with a wide variety of artists, and has appeared at nearly every prestigious folk festival on either side of the Atlantic.
Thomas Walsh has plied his melodic trade for over 25 years as the sole founder of the popcentric 'Pugwash' and co-founder of the cricket themed 'Duckworth Lewis Method' with fellow tunesmith Neil Hannon. Nominated for a prestigious 'Ivor Novello Award' as part of that duo plus 'Choice Music Award' nominations for Pugwash & DLM, Walsh continues to release records whenever possible with the help of a dedicated worldwide fan base and musical friends such as Jeff Lynne, Ray Davies, Andy Partridge, Ben Folds, Brian Wilson and bands like Fountains of Wayne and Grandaddy. 2021 will see a continued vinyl back catalogue reissue campaign plus the recording of Pugwash album number 8.
Róisín Ward Morrow is a fiddle player and folk singer from Co. Louth. Her debut album By the Light of the Moon was launched to a sold out audience during Fleadh Cheoil 2019 and has been met with great prestige nationally and internationally. She has performed extensively in venues that include Dublin Castle, Dublin City Hall, The National Concert Hall and The Grand Opera House, Belfast as well as touring abroad multiple times with Westend singer Peter Corry. Róisín is a former Leinster Fleadh champion fiddler, an alumni of the TU Dublin Conservatoire and was also a member of The Cross Border Orchestra who she performed with in Rome, Shanghai, Carnegie Hall - New York, The Royal Albert Hall - London and The White House for President Obama.
Images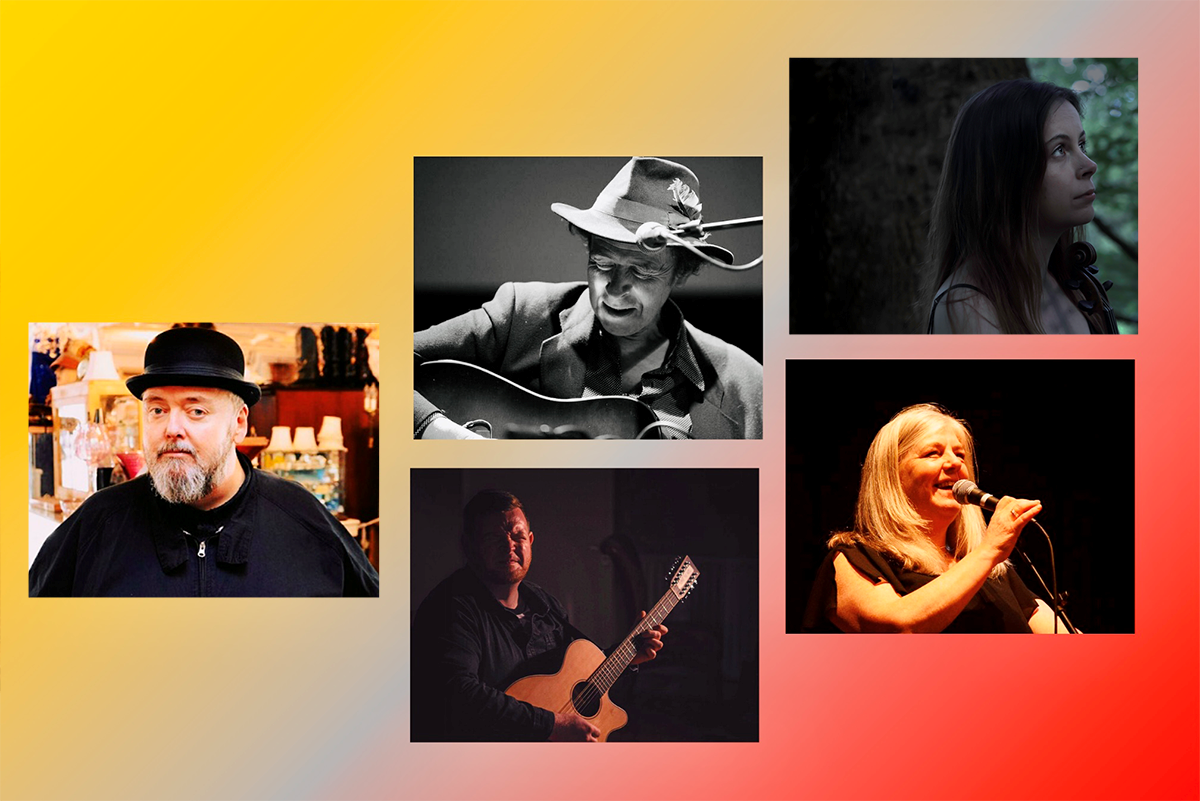 Email Address
info@droichead.com
Address
Droichead Arts Centre
Municipal Centre
26-28 Stockwell Lane
Drogheda
Co. Louth
A92 FXC6
Facebook
https://www.facebook.com/droichead.artscentre
Date
Sun, May 23 2021, 11am - 1pm