Saint Patrick is said to have first founded a monastery here, giving charge of it to one of his followers, St. Cassanus. The existing ruins, however, do not date back that far. The architectural style of the church indicates it was built in the 15th Century. Most likely, it replaced an older church built in the Romanesque style; a carved Romanesque head is incorporated in the south wall of the bell tower. The round tower predates the church and was built in the 9th or 10th century. It is well-preserved though missing its conical cap. Unusual features include the stone carvings of heads and a crucifixion above and around the doorway. It displays wonderful rough limestone masonry and may have been built by the same builder as the tower at Glendalough, Co. Wicklow.
Listen to some wonderful audio on Donaghmore Round Tower- part of the Boyne Valley Drive:
Fact
Round Towers were almost always constructed within monastic settlements, soaring above the landscape, topped off with a conical cap; doorways at a height, upper stories lit by a single round window. Was the purpose to withstand Viking attacks? The height permitted attackers to be seen; monks could gather treasures/manuscripts and flee to the tower, using a rope ladder to reach the doorway, pulling it in behind. But couldn`t the wooden door be set alight? And wouldn`t the tower act as a '`chimney``, smoke suffocating those inside? A simpler theory is that the round tower may have been used as a belfry
Featured Image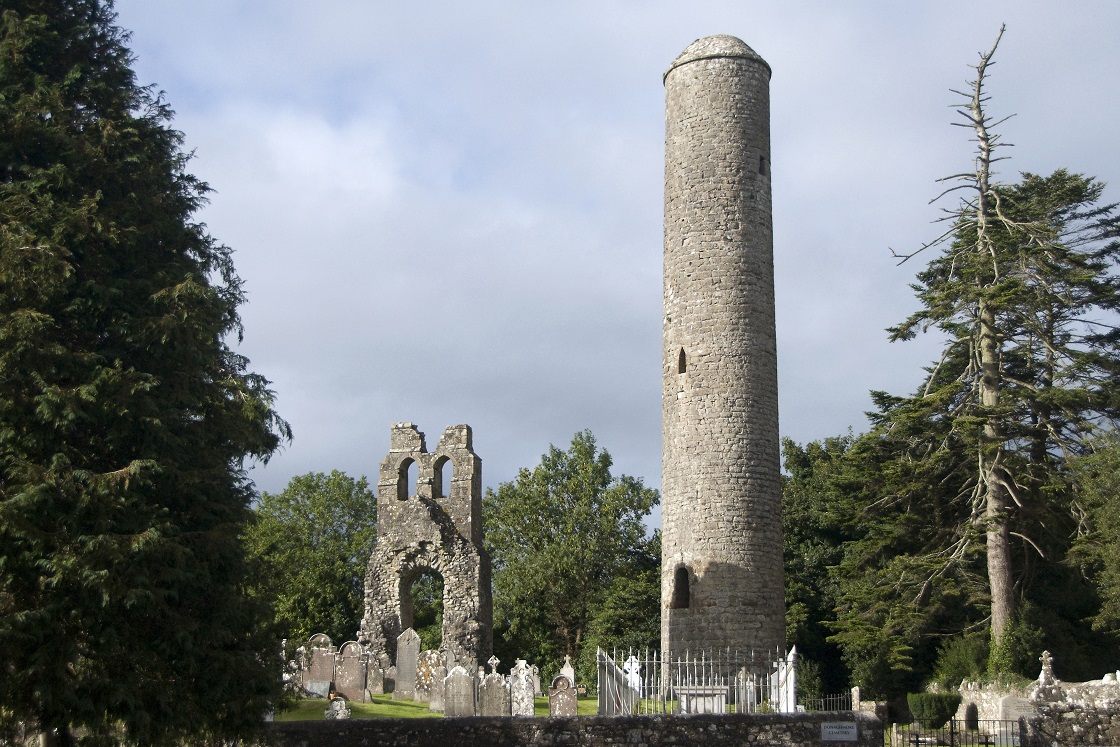 Directions
View location on Google Maps here 
From Dublin take the M3 motor way(this road is tolled), leaving at Exit 8 or N3 to Navan, on continue through Navan and take a right just beyond the turn for Kentstown, you will see a sign N 51 Kingscourt /Drogheda, go up Flower Hill and keep right round the roundabout at the Round O public house. The cemetery is about a mile on the left-hand side of the Slane road, you will see a sign with a P (Park) & + Cross, turn left here and a few yards up this road you will see a Round Tower and gate leading to the cemetary.
Via M1 Motorway or Drogheda: From the M1 (this road is tolled) coming from Belfast, take the exit for junction 10, take the N51 exit to Slane/Drogheda North. At the roundabout, take the 3rd exit onto N51 headed for Slane. If coming from Drogheda take the N51 headed towards Slane also. Continue on the N51 through slane towards Navan after approx 9kms there should be signage for Donaghmore Round Tower & cemetary
Images