Boyne Valley Tourism - Altogether Better!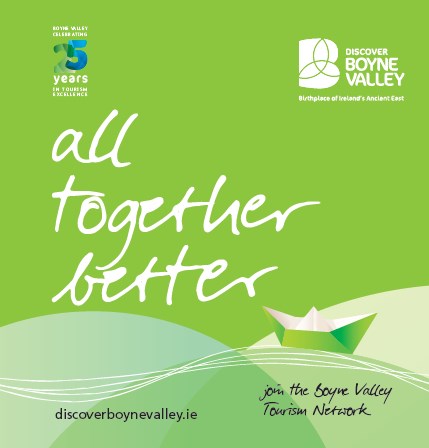 To join the Boyne Valley Tourism  membership and avail of all the FREE  benefits just call us 046 9097060, email  info@discoverboynevalley.ie or check out  the links below.
Join Boyne Valley Tourism and benefit from co-ordinated and effective tourism marketing. The Boyne Valley brand alongside Ireland's Ancient East delivers a compelling offering in the leisure and business tourism markets. Anchored on our unique heritage and culture, our marketing strategy aims to provide an integrated and collaborative marketing approach to deliver outstanding quality experiences for our customers, regenerating increased demand for tourism services and increased tourism revenue for the region.
All together better - Member Stories
Ross Kenny, Boyne Boats
"I joined because I knew nobody. As a new business start up with no previous experience I thought it best to link with the experts. The benefits for me are connections and security. I don't think my business could survive without the support of the other tourism related businesses. What would I miss most if I wasn't a member? The BVT team! They keep me informed of so much, deadlines, closing dates, media visits, shows, etc. If I have a special offer, they can circulate it for me at the click of a mouse. On my own, I'd drown!"
Ray Coyle, Tayto Park
"Tayto Park has been a proud member of Boyne Valley Tourism for many years. As we develop and visitor numbers strengthen, the Boyne Valley Tourism Network has harnessed an opportunity to encourage visitors to dwell in the region longer, to visit other attractions and to deepen their holiday experience, with a combined positive effect for all involved."
Roseanne Donegan, Monasterboice Inn
"I became a member of Boyne Valley Tourism, because it is a really efficient innovative operation, attracting and looking after our valuable tourists. Monasterboice Inn has benefited from the extra tourists in our area, largely due to the work of Boyne Valley Tourism. I would highly recommend any business in the hospitality sector to get involved."
The personal information (data) collected on this form, including any attachments, (which may include the collection of sensitive personal data) is collected for the purpose of processing this application and any data collected is subject to Meath County Council's privacy statement which can be found at http://www.meath.ie/