Saint Patrick`s Church was built in 1896, designed by J.F. Fuller, an authority on the Hiberno-Romanesque style
In 1862 the London-trained Fuller had answered an advertisement for a district architect under the Irish Ecclesiastical Commissioners; he was chosen from among 97 candidates: St. Patrick`s is one of his finest creations.
It incorporates a medieval tower-house to the west which adds significant archaeological interest. The form is enhanced by the retention of many original features and materials, such as the well-executed rock faced limestone, and its cut stone dressings. The Church has pointed arch window openings with carved limestone tracery, dressings and hood mouldings. There is a simple, timber-battened entrance door, and cut stone limestone gates. Inside, the stained glass windows - by Heaton, Butler and Bayne - add artistic interest. It is thought that the Church came into existence when the first Royal Chieftain of Ireland to be baptised by St. Patrick made a gift to the missionary of the site: This was first public administering of baptism, recognized by the then Irish royalty; it significant advancement in St Patrick`s progress.
Featured Image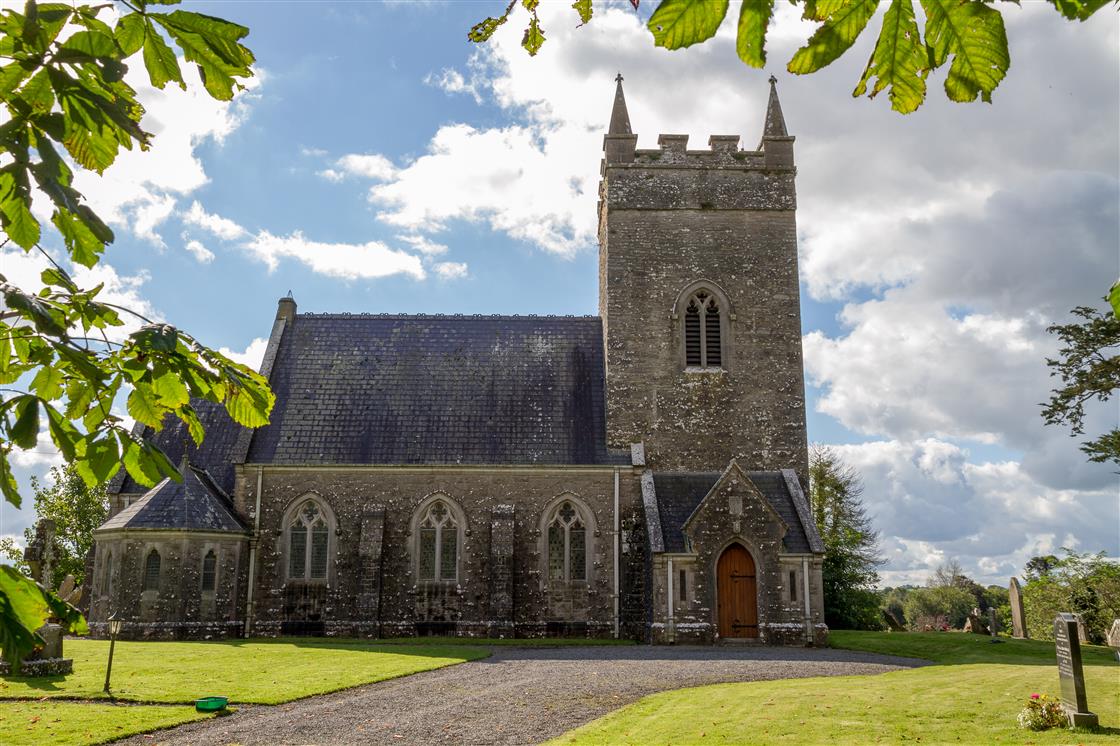 Address
Donaghpatrick,Teltown,Co. Meath
Directions
View location on Google Maps here 
From Dublin take the M3 motor way (this road is tolled), leaving at Exit 9 At the roundabout, take the 3rd exit onto N51, Go through 2 roundabouts, At the roundabout, take the 1st exit onto Kells Road/R147. Continue to follow R147, (6km) Turn right toward Windtown Road, Turn left onto Windtown Road, Donaghpatrick, Co. Meath
Via M1 Motorway or Drogheda: From the M1 (this road is tolled) coming from Belfast, take the exit for junction 10, take the N51 exit to Slane/Drogheda North. At the roundabout, take the 3rd exit onto N51 headed for Slane. Coming from Drogheda take the N51 headed towards Slane also. Continue on the N51 through Slane. At the roundabout, take the 3rd exit onto N51, Go through 1 roundabout, (13km) Turn right onto Ratholdren Road, Continue onto Windtown Road for 3km and then you reach Donaghpatrick.