The early Christian monastery of Castlekeeran is situated in the valley of the River Blackwater. Very little remains of the structure of this 8th century monastic settlement  but with three high crosses, an Ogham stone and a early cross slab grave on the wall of the one remaining part of the church it was worth paying a visit to. 
The monastery that was founded here was named 'Diseart Chiaráin', the Hermitage of Ciarán, who was a monk at nearby Kells but is not to be confused with the saint of the same name who founded Clonmacnois. St. Ciaran's Holy Well is located just to the west of the site.
Ciarán of Castlekeeran, then known as Bealach Dúin – pass of the fort – was descended from the Fiacha Araidhe of NE Ulster, and his death is recorded in 775. Very little is known of his life, although it is thought that he wrote about St. Patrick, and his feastday is 14 June (Ó Rian 2011, 168-9). The deaths of some abbots of Disert Chiarain are recorded, including Siadhal (855), Consudh (868) and Dubhthach (961). 
The monastery was plundered by Godfrey, son of Sitric, and the Dublin Vikings in 949, together with other monasteries, and in 1170 Diarmuid Mac Murrough attacked it. It soon became a dependency of the Crutched Friars of St. John the Baptist at Kells (O'Connell 1957, 19) as a parish church, and it is listed amongst its possessions at the Suppression in 1540 (White 1943, 265). 
The three high crosses that remain on the site are impressive in size but sadly undecorated. An ogham stone was unearthed in the graveyard in 1898 and it is set up incorrectly with the top below. It is just north of the church remains, and has been read as: COVAGNI MAGI MUCOI LUGUNI (O'Connell 1957, 26; Macalister 1945, vol. 1, 46). However, a more recent interpretation (Herity and Newman Maguire 2012) has identified further letters and provides the reading: T_COVAGNI MAQI MUCOI LUGUNI ITI, which they translate as: 'Of Thy Cuan son of the sons of Luigne'. 
Please note: This burial ground is situated in on private farmland, please respect the land and archaeology.
Information courtesy of Visions of the Past and National Monuments Service: Historic Environment Viewer.
Featured Image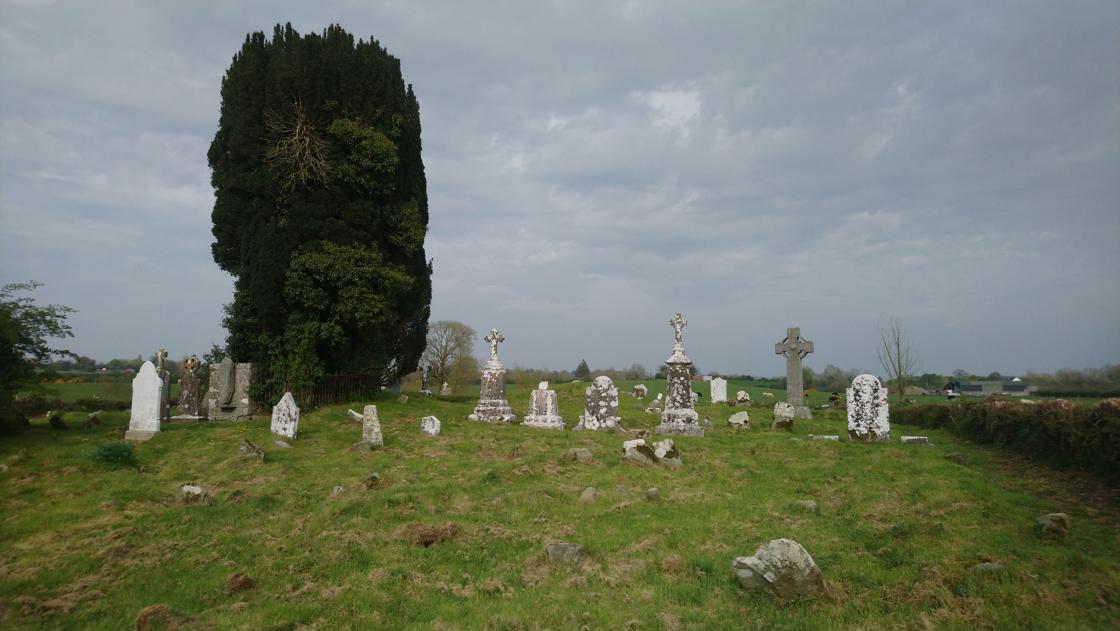 Address
Castlekeeran,
Kells,
Co. Meath
Latitude
53.74112691926373
Longitude
-6.954369644123621
Images