One of Ireland's most well-known towns, Slane has been shaped by centuries of continuity, personal commitment and constant reinvention. Legend says that over 1500 years ago, St Patrick lit a fire that signalled a transformation in Ireland's identity.
For over three hundred years, one family – the Conynghams – have added new chapters to the town's fascinating story as each generation made its mark. And for the past three decades, tens of thousands gather regularly at Slane Castle to enjoy the world's most famous bands and musicians. During all this, the town has retained its unique charm, beauty and timelessness.
Slane's long and fascinating history is brilliantly outlined on the Slane Historic Trail. There is a wealth of historic sites to explore in the estate village of Slane. Its past is brought to life through a series of plaques and panels placed at points of interest along the route.
The self guided route is 2.2km long and will take approximately 45-60 minutes. It profiles the following points:
Slane Village Square
The Diamond
Rock House
Erasmus Smith School
St. Patrick's Catholic Church
The Old School
Gate Lodge
Castle Gates
Miller's Row
Slane Mill
Gothic Gates
St. Patrick's Church of Ireland
Conyngham Arms Hotel
Hill of Slane (by vehicle)
Download Slane Historic Trail Map
Featured Image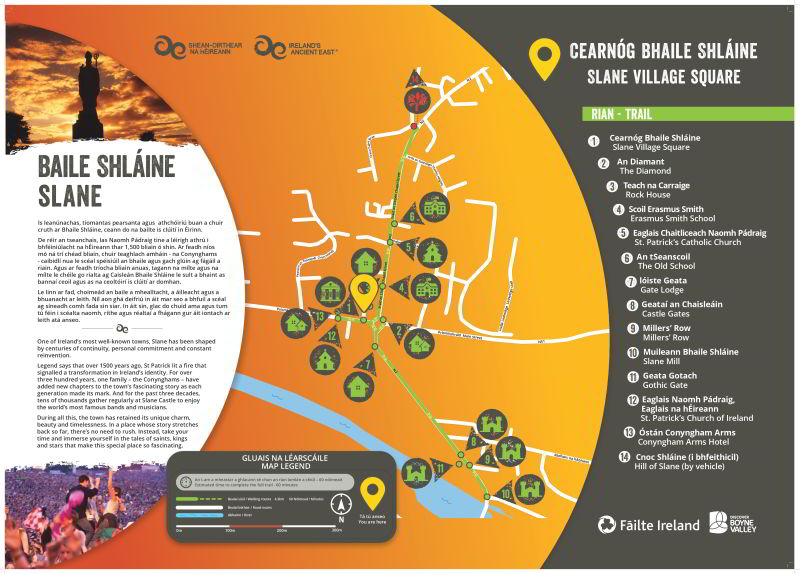 Telephone
+353 (0) 41 9824000
Email Address
visitslane@gmail.com
Address
Slane Hub and Tourism Centre,
2 Main Street,
Slane,
Co. Meath
Facebook
https://www.facebook.com/VisitSlane/
Latitude
53.70878633587721
Longitude
-6.54407481618899
Images