This inland lighthouse, located just outside Kells, was designed by Henry Aaron Baker designer of the King's Inn, Dublin for Thomas Taylour, First Earl of Bective, in memory of his father (also Sir Thomas Taylor) in 1791 and provided work during the time of a local famine. As a large monument visible from miles around, it was also a symbol of Lord Headfort's wealth and power as one of the senior Anglo-Irish landlords.
The plaque reads: 'This pillar was designed by Henry Aaron Baker Esq. architect was executed by Mr. Joseph Beck stone cutter Mr. Owen Mc Cabe head mason Mr. Bartle Reilly overseer Anno 1791'.
The Spire is said to have been used to view horse racing and the hunt in the 19th century (although the Kells racecourse itself wasn't built until after the tower) Inside there is a 164-step spiral staircase, with a central protective cage. The plaque on the east side of the Spire carries the Headfort Coat of Arms with the family crest – Consequitur quodquinque petit -('He follows what he seeks').
From the hill one can see magnificent views of the surrounding countryside as far as the Mourne Mountains in County Down, Northern Ireland on a clear day.
NB: The interior of the Spire is currently closed to visitors, but the park remains open for all to enjoy.
The archaeology and history of the Hill of Lloyd
The spire stands on the site of an Iron Age ring fort but evidence is mounting to show that the site dates further back to the Bronze Age. Recent geophysical scans of the hill show a massive hillfort of concentric ditches ringing the summit of the hill.
The hill was known as Mullach Aiti, which graduates to Mulloyde and to the current day Lloyd. The Hillfort guarded the approaches from the Kingdom of Bréifne (Cavan) to the ancient Kingdom of Midhe (Meath).
The legendary Queen Maeve (Medbh) was said to camp here with her armies on her way to steal Ulster's prize stud bull in the story of Táin Bó Cúailnge ("The Cattle Raid of Cooley").
Edward Bruce, brother to King Robert Bruce of Scotland, also camped here following his victory at the Battle of Kells in 1314, as part of his abortive invasion of Ireland.
During the times of the Great Famine, destitute people lived on the hill. The community park (The People's Park) includes the - Paupers Graveyard - in which many victims of the mid-19th century famine lie buried. On visiting the Spire - one can also take the Ringfort and Blackwater River Looped Walk, or enjoy the playground beside the carpark.
Featured Image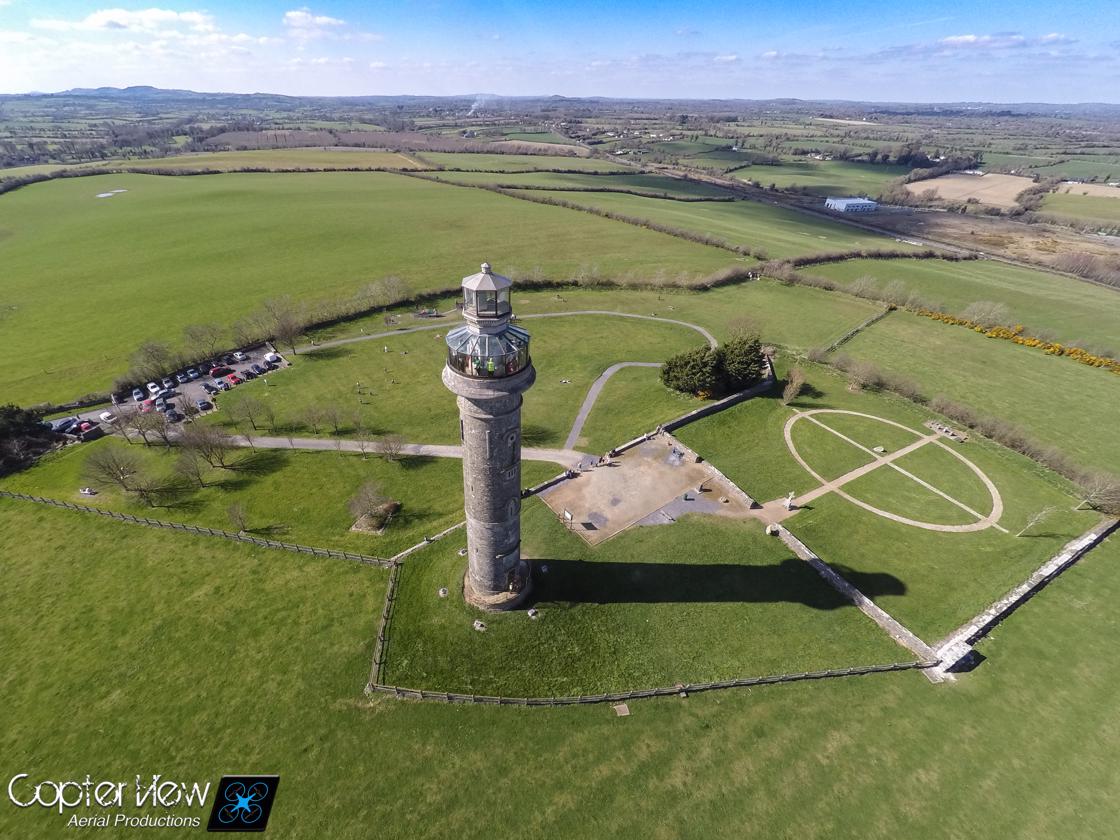 Telephone
+353 (0) 46 9247508
Email Address
kellscourthouse@discoverboynevalley.ie
Address
R163 Road,
Commons of Lloyd,
Newrath,
Kells,
Co. Meath,
A82 H2P1
Opening Hours
The interior of the Spire is currently closed to visitors, but the park remains open
Latitude
53.73301221076853
Longitude
-6.905318581692957