Date: 22/09/2023
Time: 16.30
Cost: Free Events
Culture Night 2023 at Droichead featuring an evening with music, song and stories. Come along to any of the events below, all are FREE, but we do suggest booking in advance. 
Culture Night | Making Waves | Connect Women Together Group | 4.30pm
This project began when local drama facilitator, actress and storyteller, Grainne Rafferty met with the amazing women from the 'Connect Women Together' group. This project introduced the women to the art of storytelling, while in this space, stories were shared, a few tears and many a laugh was had. 
A special listening event will launch this podcast, accompanied by visuals and followed by a short Q&A for Culture Night 2023. 
Culture Night | International Song Group | 7:00pm
Droichead Arts Centre are delighted to present a short concert by The international Song Group (Upstate Theatre Project) which is facilitated by artists Farah Elle and Caroline Moreau.  Free workshops take place on a monthly basis, that create a  safe, inclusive, positive, supportive, multicultural space where women can share and learn from each other's culture through a love of music and song. No experience is necessary and everyone is welcome.
Workshops also incorporate a range of wellness and relaxation exercises as well as wellness through music practices.  
Culture Night | SJ MCArdle and Roisín Ward Morrow | 8.30pm & 9.30pm
Drogheda songwriter SJ McArdle joins forces with Dromiskin composer and fiddler Róisín Ward Morrow to present a sample of songs from SJ's brand new project, a song cycle provisionally titled And All My Dream Companions Gone, the follow-up to last year's critically acclaimed RTE Radio 1 Album of the Week Old Ghosts in the Water and its accompanying Droichead-produced show PORT.
This new work focuses the effects of World War I upon local people, and in researching the stories of Drogheda men and women during the War, SJ has unearthed a series of riveting stories of those entrenched at home and abroad, about the hopes and fears of a generation whose stories are largely unrepresented in our canon of song.
Róisín Ward Morrow is a fiddle player and folk singer from Dromiskin, Co. Louth. Her debut album By the Light of the Moon was launched to a sold out audience during Fleadh Cheoil 2019 and has been met with great prestige nationally and internationally. Róisín was awarded an artist bursary from Droichead Arts Centre in 2021 for her research project Women of Folk Song which is set to be showcased next spring.
Images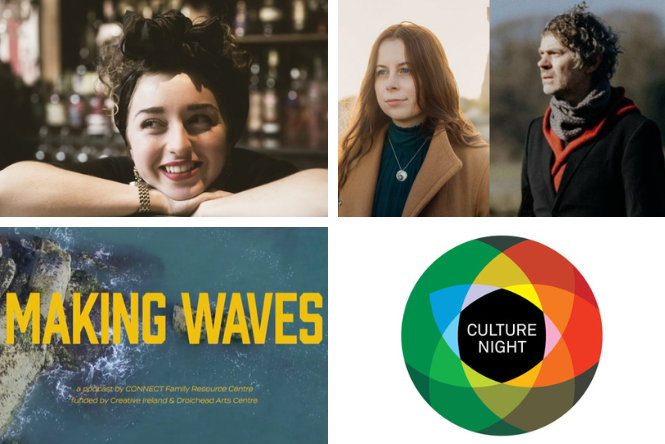 Email Address
info@droichead.com
Address
Droichead Arts Centre
Municipal Centre
26-28 Stockwell Lane
Drogheda
Co. Louth
A92 FXC6
Facebook
https://www.facebook.com/droichead.artscentre
Date
Fri, Sep 22 2023, All day