This October, Leanbh Children's Festival, our arts festival for children, young people and families in Drogheda and East Meath returns. With events that will thrill, engage, excite, create cultural experiences and facilitate learning for young people aged 0 – 13+yrs. There will be fun, magic and mayhem...enjoy!
The festival is made possible with sponsorship from Flogas, and support from The Arts Council of Ireland, Creative Ireland, Meath & Louth County Council Arts Office and Drogheda Implementation Board.
OCD Me
Tue 3 Oct | 10am & 12pm | FREE for Schools 
Starring Laura Whelan, OCD Me is an autobiographical semi-immersive play based on her personal experiences of living with obsessive compulsive disorder.  Suitable for age 13+.
I Am BABA
Created by Anna Newell | Presented by The Civic, Tallaght. | Fri 6 Oct
A magical adventure of song, lights and textures for babies.
PÚCA PUPPETS
Small Wonders
12 Oct & 13 Oct | 10.30am | €10 (Child & Adult)
For babies and toddlers, and those that care for them.  A multisensory interactive performance experience for babies and toddlers.
Sensory Wonders 
12 Oct & 13 Oct | 12.30pm | €10 (Child & Adult)
A multisensory interactive performance experience for children with autism and those who care for them. For children with autism age 4-8 Years.
Wonder Gardens Free Family Workshop (Booking Essential)
Sat 14 Oct | 11am | FREE
Children will use fabrics, wool and their own imaginations to create a textural collage piece. Suitable for children aged 7-10 and their parents/carers.
CIRCUS 250
JUANITA'S BIG PROBLEM
Family Show | Sat 21 Oct | 2pm | €8
FREE School Shows | Thu 19 & Fri 20 Oct | email info@droichead.com for details.
Using world-class clowning, this show tackles plastic pollution in a provocative, entertaining and ridiculous way. For children age 5-12yrs. 
STRONG WOMEN SCIENCE IN VISUAL VERNACULAR
Wed 01 Nov | 3pm | €8
In a fun, lively and fast-paced family circus performance, presented in Visual Vernacular (a cross between sign language and mime), find out how jugglers, acrobats and hula hoop artists use science to create their amazing acts.
SPOOK'S PARADE
Fri 27 Oct | West St. Drogheda
Launching the LU FESTIVAL OF LIGHT in ghastly style, it's "Dance or be Doomed" when a procession of horrific characters march out onto the ancient streets of the town and drag their sinister souls all across West Street, Drogheda.
Images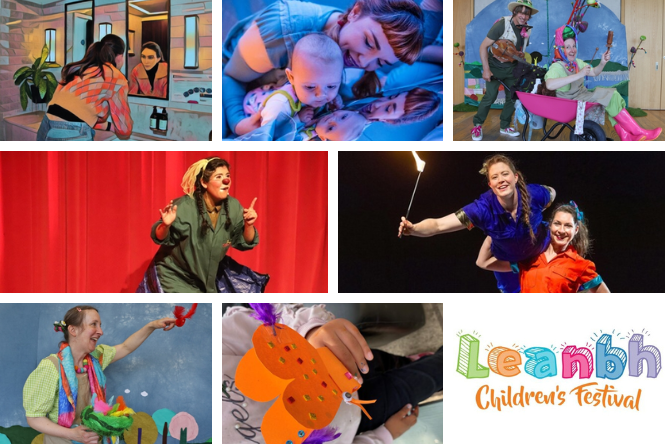 Email Address
info@droichead.com
Address
Droichead Arts Centre
Municipal Centre
26-28 Stockwell Lane
Drogheda
Co. Louth
A92 FXC6
Facebook
https://www.facebook.com/droichead.artscentre
Date
Tue, Oct 3 - Fri, Oct 27 2023, All day