Púca Festival – Jack Lukeman 
Púca is one of Ireland's newest festivals and celebrates Ireland as the original home of Halloween, which began as the ancient tradition of Samhain over 2,000 years ago. The Púca festival is a three-day vibrant and contemporary festival, strongly rooted in tradition with a programme of events centred around spectacle, music and food.  
The Púca Festival returns to the festival's hubs of Trim and Athboy this year from the 27th – 31st of October 2023, and this year we welcome Jack Lukeman to the Castle Arch Hotel for an outstanding performance on October 27th!
Over the past few years, Jack L has tirelessly crafted a faithful following nationally and globally. His hypnotic stage presence, sonorous vocal style, and unmatched interpretative prowess have left audiences worldwide in awe and wanting more. His highly anticipated shows guarantee an unforgettable kaleidoscope of performances, each radiating with the electrifying energy and raw passion that embody Jack Lukeman's music.

Book your tickets now for €30.00 per person - https://bit.ly/4864XhQ
Images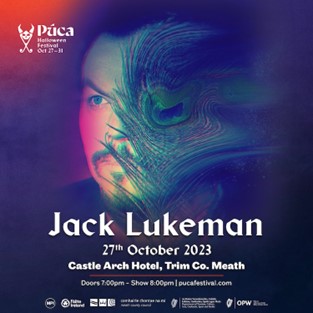 Telephone
+353 46 9431516
Email Address
info@castlearchhotel.com
Address
Summerhill Rd,
Trim,
Co. Meath
Facebook
https://www.facebook.com/CastleArchHotel/
Date
Fri, Oct 27 2023, All day