MARCH

1. Neil Delamere: Liminal
Comedy, Fri 4 Mar, 8pm, €25
Neil Delamere, star of BBC's The Blame Game, Fighting Talk and the Newsquiz, hits the road again with his riotous new stand-up show, Liminal. Expect an evening perhaps best described as Schrodinger's chat, as our wisecracking comedic hero struggles to figure out this strange new world.
Booking

2. Arracht 
Film, Fri 11 Mar, 7:30 pm, €7
Irish with English subtitled | Ireland | 2019 | 12A | 90 minutes | Cert: 12A | Director: Tomás Ó Súilleabháin
1845. The Great Hunger begins. Colmán Sharkey (Dónall Ó Héalai) is a fisherman living on the shores of Connemara. In an attempt to advocate for his starving community, Colmán visits his Landlord (Michael McElhatton) to plead for clemency in the face of continued tax hikes. After a violent altercation forces him on the run, he flees to an island cave, living in isolation for many years. Starving, grieving and on the verge of giving up, he meets Kitty, a sick young girl (Saise Ní Chuinn) and a life-saving friendship develops. But the past is never far as a ruthless bounty hunter continues to search for Colmán Sharkey.
Tá an-áthas ar Oifig Ealaíon Chomhairle Contae na Mí séasúr nua scannán Gaeilge a thaispeáint daoibh agus ag tosú i mí Márta leis an scannán Arracht. Faoi stiúir Tomás Ó Súilleabháin, agus le Dónall Ó Héalaí sa phríomhpháirt, tá an bailéad dúnmharú seo suite le linn an Ghorta Mhóir. Tá duaiseanna faighte ag Arracht ag Féile Scannán Idirnáisiúnta Bhaile Átha Cliath agus ag Féile Scannán Ghlaschú.
Meath County Council Arts Office is delighted to bring to you a new season of Irish language film beginning in the month of March with the film Arracht. Directed by Tomás Ó Súilleabháin & starring Dónall Ó Héalaí in the lead role, this murder ballad is set during the Great Famine. Arracht has received awards at the Dublin International Film Festival & at the Glasgow Film Festival.

3. Timber Futures: Børre Skodvin (Jensen & Skodvin Architects, Norway), Merritt Bucholz and Karen McEvoy (Bucholz McEvoy Architects, Ireland) & guests
Architecture Seminar, Sat 12 Mar, 12pm -3:30pm, Free, booking essential
To mark the success of the exhibition 'There is a forest but my house is built from trees grown far away', this closing seminar will focus firstly on how can we find a new form of architecture embedded in timber, and secondly where should our focus lie to achieve this?  
Chaired by Peter Carroll, Senior Lecturer at the School of Architecture at University of Limerick (SAUL), the seminar will feature presentations from guest and keynote speakers with a command and track record in the utilisation of wood in architecture. The seminar will include discussions on the ongoing timber research from universities across Ireland. 
Established in Oslo in 1995, Jensen and Skodvin Architects, Norway realize ideas in the form of built work while contributing to the development of the tectonic culture of architectural profession and with a deep concern for utilising wood.
Established in 1996, Bucholz McEvoy Architects, Dublin are known for their outstanding contribution to timber technology, sustainability and architectural design. Their new administrative office building currently under construction for Toronto and Region Conservation Authority is one such project that will set a benchmark for timber technology and sustainable design in commercial building.
The exhibition will be open from 11am - 4pm on the day and continues until March 25th.
This event is part of the Learning & Engagement Programme which accompanies the exhibition. It is designed by Solstice and funded by The Arts Council's 'Engaging with Architecture' Scheme.
Booking

4. Des Bishop: Mia Mamma
Comedy, Sat 12 Mar, 8pm, €25
I am often asked "where do you get your material from?" The truth is really that I try to see the funny in everything. My mother died in March 2019 and of course it was sad and grief can be tough sometimes but I saw a lot of funny in that too. Since death comes to us all and grief is something most of us will experience I thought there must be plenty of people who would like that funny to be shared. Also I did a show about my dad being sick back in 2010 and I couldn't face my mother in the afterlife because I know her first question would be "your father got a show, how come I didn't get one?"
I think it's tougher to lose your mum. My dad was the best supporting actor. My mother was the actress in a leading role. You are never ready when the star of the show dies. So this is a show about my mother. It's a show about motherhood and sacrifice, anxiety and grief, the mistakes you make as a mother and a son, the hard road to forgiveness and finally about the loss, grief and chaos that surrounds it.
Where do I get my material from?  Life and death!
Booking

5. Young Plato 
Film, Sun 13 Mar, 3pm, €10/€7 (conc)
English | N. Ireland, Ireland, France, Belgium | 2021 | 102 mins | Cert 12A | Dir: Neasa Ní Chianáin, Declan McGrath
A maverick headmaster in an all-boys primary school in Belfast's Ardoyne uses the wisdom of the ancient Greek philosophers to encourage his young charges to challenge violence, to question the mythologies of the conflict their parents grew up with, and to see beyond the boundaries and limitations of their own community. From the makers of School Life, the award-winning film about Headfort School, Kells. 
Supported by Meath County Council Arts Office.
Q&A after the screening with director, Neasa Ní Chianáin and producer, David Rane
Booking

6. Hope 
Film, Wed 16 Mar, 7:30pm, €7
Norwegian with English subtitles | Norway, Sweden, Denmark | 2019 | 130 mins | Cert: 15A | Dir: Maria Sødahl
Anja and Tomas have slowly grown apart over the years. Distracted by their creative careers and large family of biological and step-children, their relationship has grown distant. When Anja receives a life-changing diagnosis their modern life breaks down and exposes neglect, resentment, grief and fear. The two are forced on a challenging yet hopeful journey in which they re-discover themselves and each other. 
Booking
 
7. Let's Get Crafting with Creative Gene 
Children's Workshop (ages: 5 – 10), Sat 19 Mar, 10:30am – 12pm, €20
Places limited to 10, all materials included, old clothes and a drink are advisable.
Let's get back to crafting with Trisha from Creative Genie. It's been a while, but we're super excited to be back making and creating again. In this crafty workshop we'll be making lots of cool crafts including quilling, collage, clay impressions and more.
Booking

8. 3 Hail Mary's
Fri 18 Mar & Sat 19 Mar 8pm. Tickets: €25 / €22 
This nursing home experience will have you in tears of laughter as is it the work of Tommy Marren – writer of highly-acclaimed hit comedies 'It's the Real McCoy' and 'Nobody's Talking To Me'.
We join the residents of St. Mary's nursing home on a very special Friday.  Some of the residents are being moved to new nursing homes in different parts of Ireland and for Mary O'Toole, Mary O'Neill and Mary O'Brien it's the end of an era.  For over 10 years they've lived together and despite memory lapses, the odd tantrum and a lot of confusion they have become almost inseparable. These 3 Hail Marys are no ordinary Marys!
As the 3 Marys navigate their way through their last day together we're introduced to some of the other residents of the nursing home who become an integral part of this hilarious show.  There's Packie, who likes to play with his fishing rod and who talks in rhymes all day long and we also meet James – a multi-instrumentalist and talented musician/songwriter who is busy writing songs for his new album!
Booking

9. Navan Theatre Group presents: God's Hotel 
Local Arts, Tue 22 – Sat 26 Mar, 8pm, €20
Navan Theatre Group is very excited to present the premiere of God's Hotel by local playwright Deirdre Kinahan, under the direction of Johnnie Grant! God's Hotel tells the journey of an Irish woman and her family after she's diagnosed with terminal cancer. It features equal measures of the tears and laughter of a typical Irish family! One not to be missed!
Booking 

10. Gaza
Film, Mon 28 Mar, 7:30 pm, €7
Arabic with English subtitles | Ireland, Canada, Germany | 2019 | 92 mins | Dir: Andrew McConnell and Garry Keane
This documentary brings us into a unique place beyond the reach of television news reports to reveal a world rich with eloquent and resilient characters, offering us a cinematic and enriching portrait of a people attempting to lead meaningful lives against the rubble of perennial conflict.  A film by Andrew McConnell and Garry Keane.
Booking

11. Halcyon Days by Deirdre Kinahan
Theatre, Wed 30 Mar, 8pm, €18/16
Produced by Directions Out Theatre Company, Halcyon Days is a delightful play by previous Solstice Artist-in-Residence Deirdre Kinahan. It was co-produced by Solstice in 2012 before going on to become a national sell-out across the country.
Patricia has a zest for life and men when she is thrust together with Sean who is languishing in a nursing home. They form a funny, spiky and close relationship. Halcyon Days examines the importance of friendship, family and community and how under duress people need to make the most of what they have. It is a play about staying positive despite the odds.
Deirdre Kinahan is one of Ireland's leading playwrights with recent hits such as Rathmines Road, The Unmanageable Sisters and the internationally renowned Moment. The cast includes veteran actor of Irish stage and screen Barry McGovern and Una Crawford O'Brien of Fair City. Directed by Joe Devlin.
Booking
APRIL 

12. Natural Willow Wreath Making & Silk Flower Corsage Workshops with Creative Genie
Adult Workshops, Fri 1 Apr, 7:30pm – 9:30pm, & Fri 8 Apr, 7:30pm – 9:30pm, €90 (for both)
Places limited to 12. All materials supplied, a glass of wine & some light refreshments included.
Time to get your crafty groove on as Trisha from Creative Genie is back in action. Now's your chance to learn how to make your own original willow wreath from scratch using locally grown native willow. Your wreath can be kept for years and decorated according to the seasons. Over the course of the evening you'll learn how to work with this beautiful natural material and the many uses it has. Gardening gloves are helpful for working with the willow.
In our second session, you'll be learning how to make a spring themed floral corsage/swag to attach to your beautiful wreath. You will learn the floristry skills to wire, tape and assemble a floral arrangement in a corsage style. This is the method that bridal bouquets were made in originally and is a skill that can be adapted to so many crafts and uses. You will use a selection of silk flowers, ribbon and embellishments. Your finished corsage can be replaced as the seasons change and stored away for the next year.
Booking

13. An Evening with Paul Brady
Music, Fri 1 & Sat 2 Apr, 8pm, €37.50
Paul Brady, singer, songwriter and multi-instrumentalist is one of Ireland's most highly regarded and successful artists. He crosses musical boundaries again and again, incorporating folk, rock, blues, traditional Irish & classic pop styles into his song-writing. His live performances, whether solo or with a full band, include songs from his extensive catalogue of 40 years. Often classified as a musicians' musician, Paul Brady's songs have been covered by a huge array of major artists.
Booking

14. Alice's Adventures in Wonderland 
Music, Sun 3 Apr, 6:30pm, €18 / €16 / €55 (family of 4) 
Opera Collective Ireland presents the Irish premiere of Alice's Adventures in Wonderland, an opera for all the family based on Lewis Carroll's beloved children's book. Composed by Will Todd with a libretto by Maggie Gottlieb, this fun and engaging opera opened to rave reviews at its Opera Holland Park premiere in 2013. Directed by Caroline Chaney with set and costume designs by Leslie Travers, this touring production features a vibrant young Irish cast and the Irish Chamber Orchestra conducted by Stephen Barlow.
11-year-old Alice is jolted out of her daydreams when she meets a talking Rabbit who insists she follows him to a mysterious Wonderland... In this fantastical place Alice comes across a number of peculiar characters, including a relaxed caterpillar, a happy cat, a depressive hare, a white knight, a romantic duchess, a mad hatter and a sleepy dormouse, and learns that all is not well in Wonderland…
From the familiar characters, blues-inspired music and comic texts, this can be enjoyed by audiences young and old.
Booking

15. Easter Crafts with Creative Genie
Children's Workshop (ages: 5 – 10), Sat 9 Apr, 10:30am – 12pm, €20
Places limited to 10, all materials included, old clothes and a drink are advisable.
Join Trisha from Creative Genie on this Easter/Spring themed workshop. Learn lots of crafting skills and make your own Easter decorations. There'll be weaving, painting, moulding and more and lots of cute pieces to take home!
Booking

16. Snapshot by Miriam Needham
Theatre, Sat 9 Apr, 8pm, €16/14
Snapshot is a play inspired by 44 real-life interviews with people in the Sligo area about their experiences of the first lockdown. It is a record of a global event through a local lens. 
The comedy-drama is set in the early days of the first lockdown. It is a story of two sisters trying to connect in a disconnected world and finding their footing in a changing landscape. Through their relationship, we explore loss, loneliness, and shared memories, all with deft humour and lightness of touch. 
This is a Hawk's Well Theatre production, produced with the support of the Arts Council and Creative Ireland.  Created over the course of lockdown in 2020/21 by theatre artist Miriam Needham.
Booking

17. Act Out Youth Theatre presents: Deliberations
Local/Youth Arts, Thu 14 Apr, 8pm, €10/8
Act Out Youth Theatre in association with Solstice Arts Centre present Deliberations. Meath's leading youth theatre is back to the live stage with their most innovative production yet. Deliberations explores themes of discovery, dilemma & gender from the perspective of young people in Ireland in 2022. Join us for an evening of quality theatre from Meath's most exciting, young talent as it showcases their creativity & imagination.
Act 1 is completely created, written and performed by members from Navan & Dunshaughlin. This is followed by the premiere of the One Act Play ALLIES, written by playwright Jo Egan (Macha Productions) using contributions from Act Out Seniors, which explores what gender means to young people in contemporary society.
18. Colourful Characters - Illustration Easter Camp with Tatyana Feeney
Children's Camp (ages: 8 - 12), Tue 19 – Thu 21 Apr, 10am -12pm each day, €50        
Bring your characters to life through drawing and print with local artist and author Tatyana Feeney. Join us for three days in Solstice studio to explore book illustration, develop your own heroes and heroines and learn how to use paint and colour to begin their visual, imaginative journey.
Every story has a beginning, a middle and an end. This Easter camp begins by exploring different characters within stories and demonstrates how to create your own, using drawing and story prompting exercises to ignite their unique personalities. On your second day you will explore scenes or stories for your characters to inhabit, creating imaginative worlds in which to play, explore and create. On the final day you will learn how to develop your drawings using ink and mono-print techniques. Using every day and found objects, we may even go on a nature walk outside around Solstice, to gather our own (weather permitting) and use them to create texture and depth in your final illustrative piece of art.
Tatyana Feeney is a children's book author-illustrator living in Meath. Her illustrations are created using printmaking with added media including collage and watercolour. Her books include Small Bunny's Blue Blanket, Little Owl's Orange Scarf, Small Elephant's Bathtime (all from Oxford University Press) Socks for Mr. Wolf and Eva and the Perfect Rain (The O'Brien Press) and the latest Gairdín Mhaire na mBlaith (An Gum).
Booking

19. Spencer 
Film, Wed 20 Apr, 7:30pm, €7
117minutes | Germany, Chile, UK, USA | 2019 | 12A | Dir: Pablo Larraín
Christmas. 1991. Sandringham Estate. The Royal Family gathers for their annual three-day celebrations. 
Diana, Princess of Wales (a mesmerising Kirsten Stewart) arrives late, having circumvented her driver and security detail.  Her marriage to Prince Charles is now hanging by a thread due to his affair with Camilla Parker Bowles which has become public. Cold-shouldered by the family, quietly admired by the staff, Diana struggles and stumbles through her final Christmas of expectation, tradition and hypocrisy. Billed as a 'fable from a true tragedy', Larraín's imaginative interpretation of how those days played out for the strained Diana, lead us through a maze of her internal and external struggles, some real some imagined. Nothing is what it seems but freedom is calling. 
Booking

20. The Best of Bond in Concert
Music, Thu 21 Apr, 8pm, €30/28
Solstice Arts Centre is delighted to announce BEST OF BOND! This spectacular concert features the new and exciting Irish Filmharmonic Ensemble joined by top guest vocalists Margot Daly, Kevin Fagan and Amy Penston, in a celebration of the iconic music associated with the world's most famous spy. Starting with the universal James Bond Theme, the show then features Bond themes between 1963 and 2020 with brand new arrangements by Producer Mark Cahill. Every seat in the house will connect to this impressive 7.1 live surround sound production and a state of the art audio-visual production with a larger than life high definition screen behind the musicians and performers!
Booking

21. The Lost Brothers 
Music, Fri 22 & Sat 23 Apr, 8pm, €25
The Lost Brothers return for their annual performances at Solstice Arts Centre. These nights are not to be missed! 
In 2020, just as lockdown hit, Oisin Leech and Mark McCausland released their critically acclaimed album "After The Fire After The Rain". Now they will finally get to perform these songs in a live setting. Celebrated internationally for their song-craft and harmonies and with one half of the band being from Navan these shows will be memorable homecoming events. 
Special Guests on Friday April 22: Dónal Lunny and Paddy Glackin.
Special Guest on Saturday April 23: Niamh Regan.
Booking

ARCHITECTURE 

22. There is a forest in my backyard, but my house is built from trees far away  / Mu maja pole puudest, mis kasvavad kodu taga metsas 
Sat 29 January – Fri 25 March. 
In association with the Irish Architecture Foundation, Solstice Arts Centre presents There is a forest in my backyard but my house is built from trees grown far away, a major exhibition exploring the act of transformation across the life cycle of timber from extraction to transportation, standardisation to encapsulation and disassembly for potential reuse.  
 
Curated by Estonian-Irish team of architects Aet Ader, Helmi Marie Langsepp, and Mari Möldre (b210 Architects, Tallinn) and St. John Walsh (Alder Architects, Dublin), five Irish and five Estonian architecture practices were invited to exchange ideas in response to the theme, resulting in thought provoking exhibits in Solstice galleries. 
 
Exhibiting practices include Wrkshop, Robert Bourke Architects, Joseph Mackey Architects, Hannigan Cooke Architects, OGU Architects, Paco Ulman & Kaja Pae, Creatomus Solutions, Ruumiringlus, Peeter Pere arhitektid, studio Kuidas and the exhibition designer ROJI.
The Wood Works project is supported by the European Regional Development Fund through Enterprise Estonia, the EAA, the ECA, The Cultural Endowment of Estonia, Enterprise Ireland, the Arts Council of Ireland, and the IAF.
Gallery Opening Hours: Tuesday – Saturday, 11am – 4pm. Admission free, no booking required. 
More info 
VISUAL ARTS
23. The Golden Fleece Award: 21 years 
23 April –4 June 2022
Curated by Aisling Prior 
Join us for the exhibition opening and the 2022 Golden Fleece Award Ceremony from 2pm - 3.30pm, on Saturday 23 April. All welcome.
2022 marks 21 years of the Golden Fleece award, an independent, private award established at the bequest of Helen Lillias Mitchell (1915-2000).
The Golden Fleece Award is the largest prize open to both artists and makers in Ireland. Its mission, enacted in accordance with the wishes of its founder, is to provide resources for practising contemporary visual artists and makers to innovate and develop their artistic vision.
This hugely eclectic and diverse exhibition presents work from past award recipients provides a unique insight into contemporary making and visual arts over the last 20 years. Work by over 45 artists and makers working in digital art, jewellery, painting, fashion, furniture, ceramics, basketry, photography and textiles will be exhibited.
Artists included are Sinead O'Dwyer, Aideen Barry, Jennifer Trouton, Laura Fitzgerald, Stevan Hartung, Ailbhe Ní Bhriain, Sara Flynn, Cecilia Moore, Kathy Tynan, Joe Hogan, Geraldine O'Neill, Marcel Vidal, and Bassam Al Sabah.
Images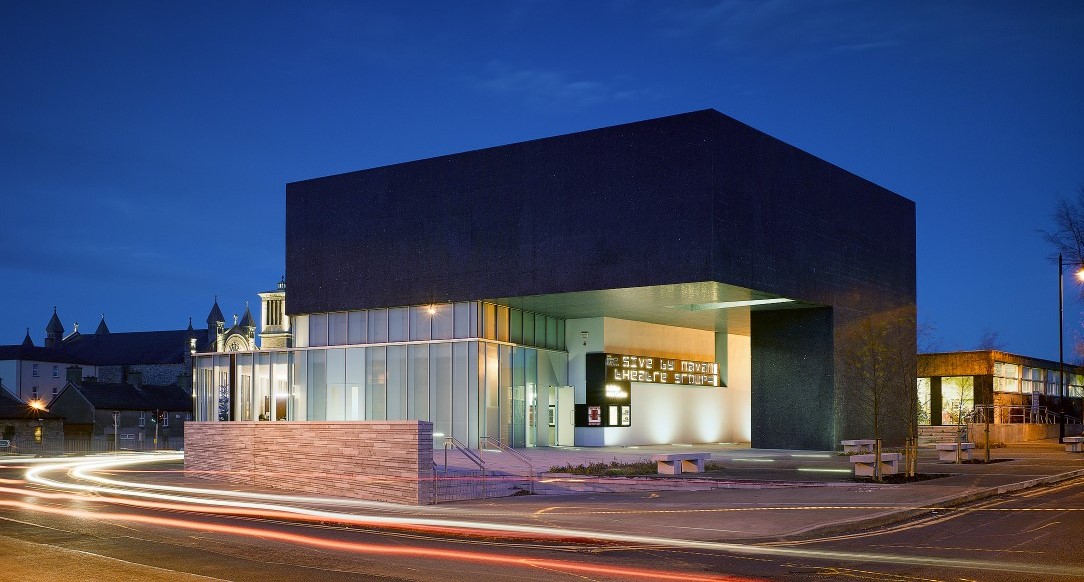 Email Address
info@solsticeartscentre.ie
Address
Solstice Arts Centre
Railway Street
Navan, Co. Meath
Ireland C15 KWP1
Facebook
https://www.facebook.com/solsticearts
Date
Fri, Jan 1 2021 - Tue, May 31 2022, All day