Millmount Museum and Martello Tower are situated on high ground in the heart of Drogheda near to where the river Boyne. Shortly after the Anglo-Norman King Henry II granted him the Kingdom of Meath in 1172, Hugh de Lacy constructed a motte and bailey on a huge mound overlooking the River Boyne. A more substantial stone fort replaced the earlier structure. According to Irish mythology, the mound was the burial place of Amergin mac Míled, druid, bard and judge of the Milesians. Amergin was the son of Míl Espáine and brother of éremón (see Myths & Legends, p. 52).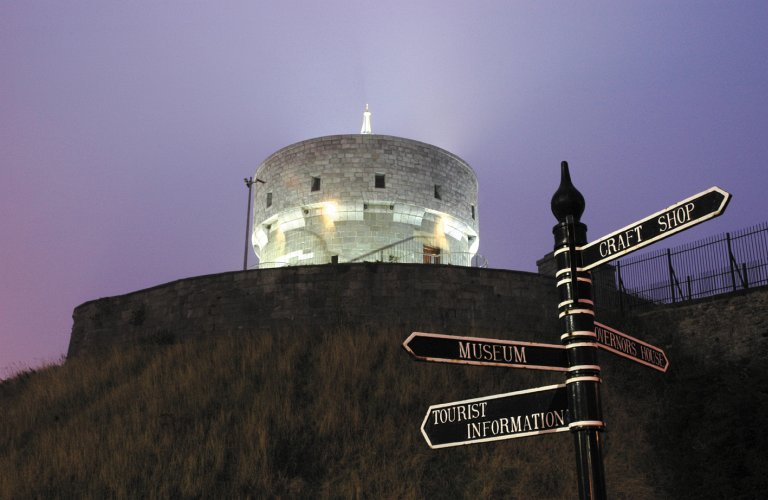 +353 (0)41 9833097
info@droghedamuseum.ie
Millmount Museum, Millmount Complex,Drogheda,Co. Louth
F: +353 (0)41 9841599
Getting here - Drogheda Museum Millmount is located in the centre of Drogheda town on the south of the river Boyne. Buses and cars should turn into of the Dublin Road onto Mary Street at the Memorial, facing the new Scotch Hall Shopping Centre, and drive to the top of the hill. Turn right into Duleek Street and follow the road turning left into the Millmount Complex.
On foot from the Train Station follow the same route as above. From the Bus Station, Town Centre of tourist Office eirther take the steps to the right of Ollies Public House or walk up Barrack Lane to the Millmount Complex which is directly across the road from the Millmount Public House. Visitor Information
The Museum is open all year except for Christmas Holidays, New year and Good Friday.
Monday - Saturday: 10.00am - 5.30pm
Sundays & Bank Holidays: 2.00pm - 5.00pm
Please note last tours are 60 minutes before closing
Museum /Tower /Museum &Tower Adult €3.50 /€3.00/ €5.50
Child €2.50/ €2.00 /€3.00
Student €3.00 /€2.50 /€4.00
Family €8.00 /€6.00/ €12.00
Concession €2.50/ €2.00/ €3.00
53.7119
-6.35024